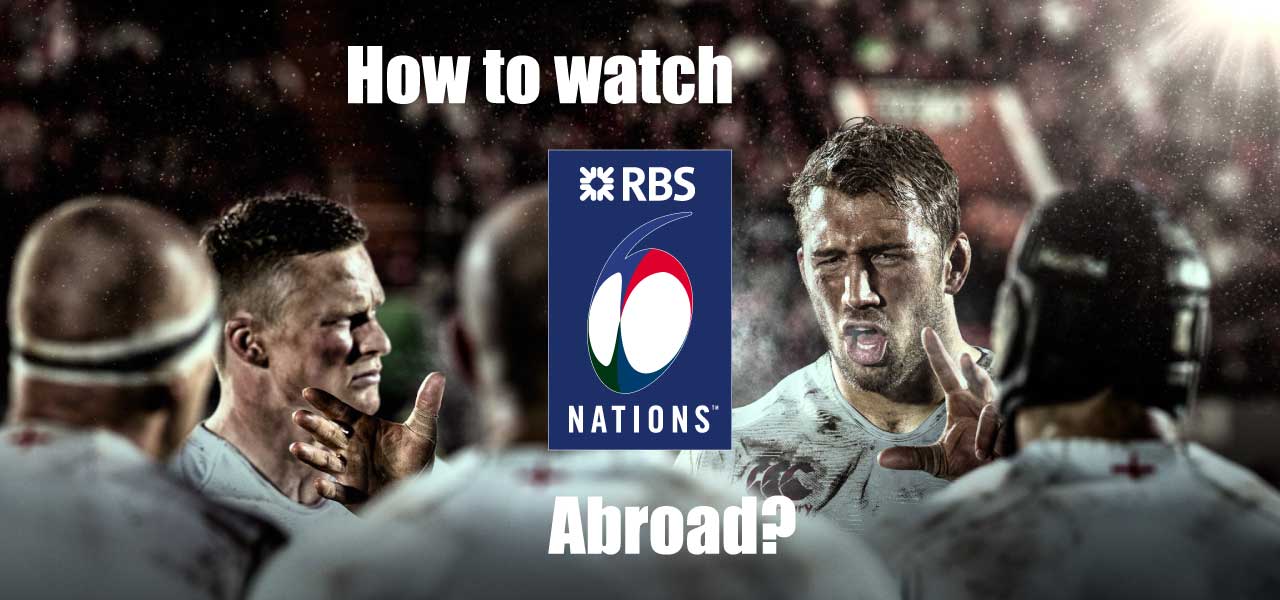 As a rugby fan, this is an article I should've written long ago… But there's always this and that. My to-do list keeps growing and growing! Anyway, today I'll explain how to watch 6 Nations abroad for people like me, who don't want to miss a game. Because even if you're not in the UK, you can still watch Six Nations rugby online. And it's really simple. Here's the kick off!
Try ExpressVPN Now
Look no further, here's the best VPN!
Enjoy unlimited streaming and torrenting, anywhere in the world and protect your privacy online. With this exclusive offer, you can use ExpressVPN 30 days, risk-free!
Can I watch 6 nations abroad?
No, you can't, sorry about that. Indeed, the BBC and ITV are sharing the broadcast rights of the Six Nations Championship. But neither stream is available outside the UK, even on the BBC iPlayer… So, if you try to watch Scrum V, for example, you'll get this message: "BBC iPlayer only works in the UK. Sorry, it's due to rights issues." And it's quite similar on ITV, with: "We're sorry. ITV Hub is only available to viewers in the UK."
There isn't really an issue with TV rights… It's just the way things work! The BBC and ITV bought the rights to broadcast Six Nations, but only in the UK. So if you're not in the UK, you can't get the Six Nations streaming. Because most probably another broadcaster has the right for the territory where you're staying.
But don't give up just yet dear reader! Because I have the solution on TheBestVPN.UK. Indeed, there's a tool that allows you to watch Six Nations rugby online. It's totally legal. And it allows you to watch Six Nations live from the official BBC and ITV websites.
Try ExpressVPN Now
Save 49% + 3 Months FREE (Valid Until October 2023)
Pro tip from Wade
While I'm explaining how to watch rugby online free, I'm not talking about low-quality streams full of viruses and ads, which buffers every five minutes. If you're here, you'll get only the tips to get the official streams.

How to watch Six Nations abroad?
It's easy as pie: Subscribe to a VPN, which offers a server in the UK. And all the major VPN have at least one server in the UK. What is a VPN? It's a security tool that will allow you to emulate your location in the UK, even when you're not. And not only in the UK, but everywhere your VPN provider offers a server.
I won't explain exactly how it works here. But what you need to understand is that the server acts as an intermediary between your device and the websites of BBC and ITV. Therefore, when you visit a site to watch Six Nations live, you use the IP address of the VPN server. And not your own. As a result, you have an English IP address.
And an English IP address is exactly what you need to access the Six Nations live stream! Indeed, the websites authorize (or not) your device to access their content depending on your geographical location. And to determine your position, they compare your IP address against a white list of IPs in the UK. So with an IP in the UK, you can watch Six Nations on BBC and ITV.
Try ExpressVPN Now
Save 49% + 3 Months FREE (Valid Until October 2023)
What's the best VPN to watch Six Nations rugby online?
I know that choosing a VPN is not an easy task. Because there are so many VPN claiming they're the best… That's why I made this website: To share my reviews and experience with VPN providers. So you don't have to spend some time to try them all.
For the task at hand, to watch Six Nations rugby online, you need a premium VPN. Because you need to watch a live video stream which consumes broadband. Furthermore, you need a VPN that can unblock the access to BBC and to ITV. Finally, you need a user-friendly VPN, so you won't waste your time setting it up.
Of course, I used all these criteria to create the ranking below. And no matter which one you choose in this list, you'll be able to watch the 6 nations streaming.
Beware of free VPNs
In this world, nothing's really free. And you know it, don't you? It's not NGOs that are behind free VPNs. If you don't pay for their service, they'll sell your data to the highest bidder (best case scenario). While a reliable VPN is not free, it's quite cheap: From £5 to £10 for a whole month. And the Six Nations fixtures are spread on two months. So that's a £10 to £20 bill in exchange for your online privacy…

How to watch 6 Nations abroad? My tutorial
Now that you know how to watch 6 nations online, take a look at my step by step guide below to get started. While it's generic, you should be able to follow these steps with most VPN of my list. Because they have a very similar process to register and connect to a VPN server.
Choose a VPN provider from my list above
Click on the orange button to visit the VPN website
Register and subscribe to the service
Download, install and launch the VPN client
In the software select a server located in the UK
Click on the "Connect" button
Go back to the BBC/ITV site or app, log in
That's it! You can now enjoy the Six Nations streaming, on all your devices. And you won't miss a game because of content geo-restrictions
A word on privacy and security
Unblocking geo-restricted content, to watch 6 nations online, for example, is one of the most popular features of VPNs. But it's not the only one. Because, as I said above, a VPN is a security tool originally. So it was not designed for entertainment, but to improve your privacy and your security. Most of all, it creates an encrypted tunnel between your device and its server. And inside this tunnel, your data is out of reach from snoopers (your ISP, your government, or hackers).
In addition, a VPN hides your IP address and replaces it with the IP of its own server. So you can browse the web anonymously, without anyone knowing what websites you visit. Not even the websites themselves!
Pro tip from Wade
Without a VPN, you leave traces of your activity on all the websites you visit. While these bits of information are anonymous, it's possible to aggregate them and determine your location and your identity… So you should always use a VPN, on all your connected devices.

This was my guide: Watch Six Nations rugby online: How to watch Six Nations abroad? Stay tuned for more articles coming soon.
Before you go sports fans!
I have many other tips to watch sports online with a VPN. So enjoy accessing restricted content and read the articles below: