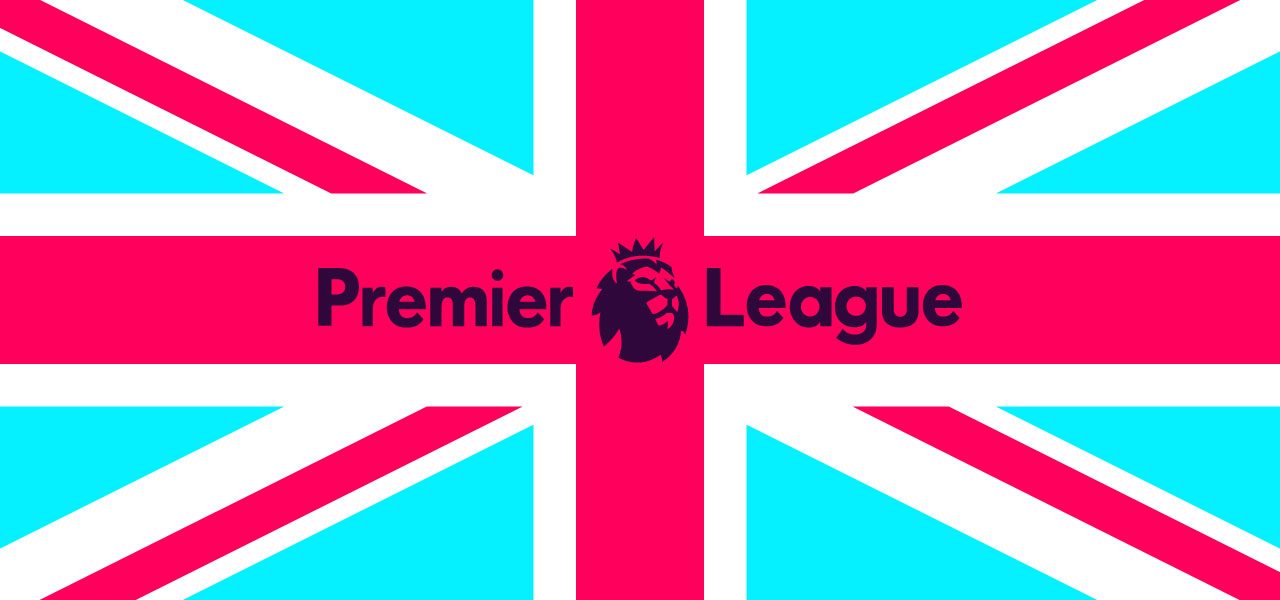 The English Premier League (EPL) is the most-watched sports league in the world. For those of you from another planet (literally), this is the country's top football competition. And it's the most prestigious and the most popular championship in terms of viewers. Why? Because the EPL is reputed to be physically demanding for players and exciting for watchers. However, geo-restrictions apply for most broadcasters worldwide. Therefore, it's impossible to get the Barclays Premier League live streaming online when out of your TV channel's turf. But cheer up, I have the solution for you to watch the EPL live streaming, read on!
Try ExpressVPN Now
Look no further, here's the best VPN!
Enjoy unlimited streaming and torrenting, anywhere in the world and protect your privacy online. With this exclusive offer, you can use ExpressVPN 30 days, risk-free!
Time is precious!
If you don't have time to read because the game is about to start, I recommend you to subscribe to ExpressVPN. Download, install, and launch the client then connect to a server in the UK to watch the English channels. Finally go back to the channel's site and refresh the page. Enjoy the game!

The restrictions on Premier League live stream abroad
If you're in no hurry, let's see what's at stake when you're travelling abroad. I don't need more than five words: You cannot watch EPL abroad. And all the English channels which broadcast the Premiership are concerned: Sky Sports, BT Sport or BBC. Indeed, you can try to visit any website when you're overseas and you'll get a message similar to this one: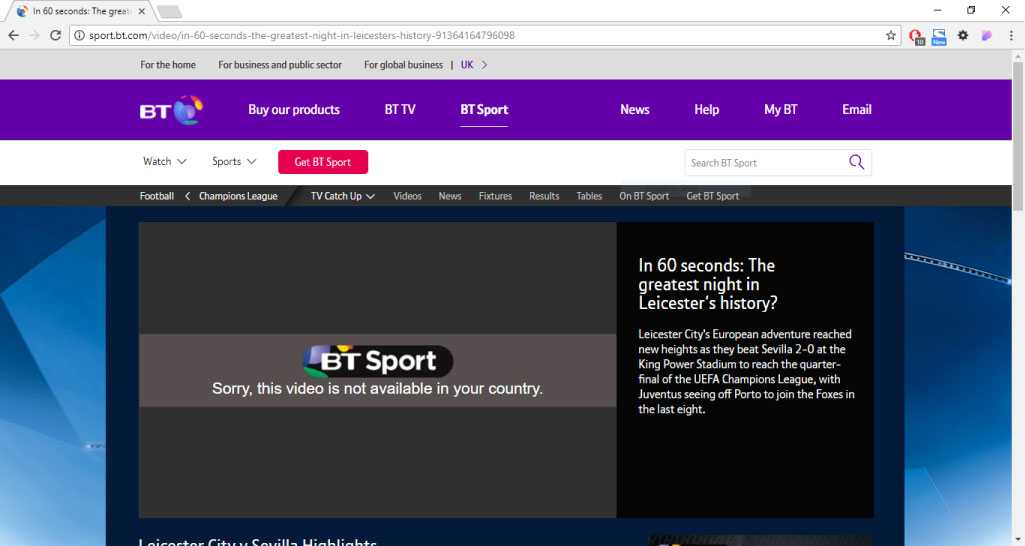 Therefore you can't watch Premier League games, nor any other content from these channels. The reason is extremely simple: The Premier League sold the television rights to different broadcasters in different countries. Wikipedia mentions 212 territories for this season. So the content is widely available. But in return, the broadcasters have to restrict the access to their content to avoid competing with each other. So if you're on holidays on the French Riviera in August, when the PL starts, you won't be able to watch the English channels.
Fortunately, there's a 100% legal solution, to watch EPL live streaming. And I'm not talking about a shit** streaming site, full of ads and threats for your device. I'm talking about watching all the fixtures from your favorite channel, with the best quality.
Try ExpressVPN Now
30-day money-back guarantee
How to watch Premier League abroad?
The channels' restrictions are based on your geographical location. Therefore, to determine your position, the TV provider checks your IP address against the list of all the addresses registered in the UK. And if yours is not on this list you can't access.
Bypass the restrictions with a VPN
So your goal is to get an IP address in the UK, to get the real English experience and feel at home. While several tools exist to achieve this (VPN or proxy), I highly recommend you to use a VPN, which is more reliable. The process takes only a few minutes. And it's never too late to bypass the restrictions. So even if you're reading this article abroad now, you can unblock your Premier League live stream.
What's a VPN? It stands for Virtual Private Network and it's a software that can emulate your location anywhere in the world (where your VPN provider offers a server). So the more servers the better!

The VPN server acts as an intermediary between your device and the website. And it visits the site on your behalf. Therefore, the website considers that you "are" the VPN server, with an IP address in the white-list. As a result, it sites gives full access to the content. And the server sends it back to your device. That's how you can watch Sky Go abroad or stream BBC iPlayer outside UK as well.
Try ExpressVPN Now
30-day money-back guarantee
An affordable monthly fee
You're looking for a VPN Premier League. Maybe you're on holidays or on a business trip for a couple days. And you don't want to spend much. No worries. Because VPN are quite affordable. Indeed, you can easily find cheap VPNs on my site: From £5 to £10 for a month. But the Premier League season 2017/18 is from August to May, so you'd better take a yearly package. Indeed, you can get much better prices, with over 50% discounts! And VPNs offer other features, as you'll see below.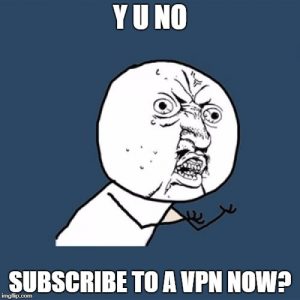 But if you're afraid of commitment, you can subscribe only for a month, and sometimes only for a day! Furthermore, most VPNs offer a money back guarantee. So you can try their services and unsubscribe if you're not satisfied. The cancellation is very easy and you can get a full refund.
Beware of free VPNs
While there are free VPNs on Google (which could be attractive for an unwary user), I recommend to avoid them at all costs. Indeed, nothing's really free these days. So they'll use your browsing data for commercial purposes and sell them to the highest bidder. And that's in the best case…
Furthermore, you can't get a premium VPN service for free. So you will mostly fail to unblock content. And the speed will be too slow for a proper streaming.

The best VPNs for EPL live streaming
In order to help you in your quest to find the best VPN to watch Premier League live, I made a list of recommendations. The criteria I used in this case are:
The VPN is user-friendly: Plug and play with a smooth interface…
The speed of the VPN: You want to watch Premiership online…
The VPN unblocks content: Always, regularly, from time to time…
Keep in mind that this Top VPN evolves regularly. Indeed, some VPNs might win or loses their spot. But I vouch for all the VPN services in this list.
Another feature of VPNs
While accessing restricted content is a popular VPN feature, it's not the main one. Indeed, a VPN improves your security and protect your privacy. How? By creating an encrypted tunnel between your device and its server. Therefore, snoopers (your ISP, your government, or hackers) can't intercept your data. And if in case of disaster your data is encrypted with military grade AES-256 encryption (the same used by the NSA…).

In addition, it hides your IP address and replaces it with the IP of its own server. So the sites you visit consider that you're the VPN server. While they have to know the requests you make (to be able to send you content), it's impossible to link these requests to your real IP address.
Pro tips from Al
I recommend you to use a VPN on all your devices when connected to the Internet, at all times. Indeed, you leave traces of your activity on all the sites you visit. Despite these bits of information being anonymous, it's possible to find your location and your identity…

Where to watch EPL live streaming?
As I said above, you can watch the Premier League live in 212 territories… And some options are cheaper than others to watch Barclays Premier League live streaming online. So you may want to take a look there if you're an English speaker.
Watch EPL live on Sky Sports/Sky Go (UK)
On Sky Sports and Sky Go, Premier League fans can watch 126 live games next season. Furthermore, Sky Sports created new channels dedicated to EPL and football: Sky Sports Premier League and Sky Sports Football.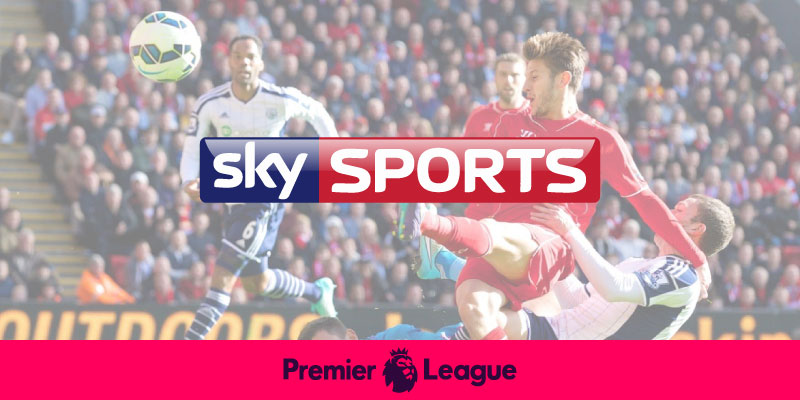 With a VPN connected to a UK server, you can subscribe to their services and watch all these games live!
Watch Premier League live on BT Sport (UK)
BT Sport broadcasts 42 exclusive live Premier League matches next season. And their goal is to offer football fans a superb football experience, with all the highlights and analysis of the games.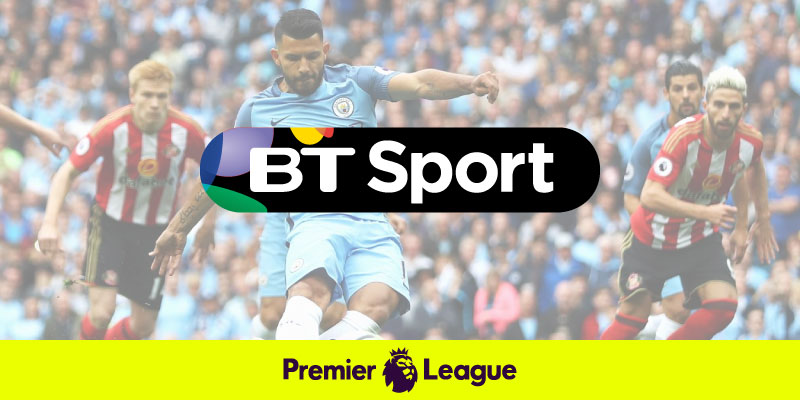 To subscribe to BT Sport and watch EPL live streaming, connect your VPN to a server located in the United Kingdom!
Try ExpressVPN Now
30-day money-back guarantee
Watch Premier League catch up shows on BBC (UK)
At BBC, there's no live coverage. But the very popular Match of The Day (MOTD) is BBC's principal football programme. And it's shown on Saturday evenings during the English football season, for free. If you're on a budget, you can watch the highlights of the day's matches in the Premier League.
Just connect your VPN to a server in the UK to watch the Premier League highlights!
Watch the English PL on Optus Sports (AU)
This Australian TV service is not cheap. However, it has the rights to the EPL there and offers dedicated Premier League channels.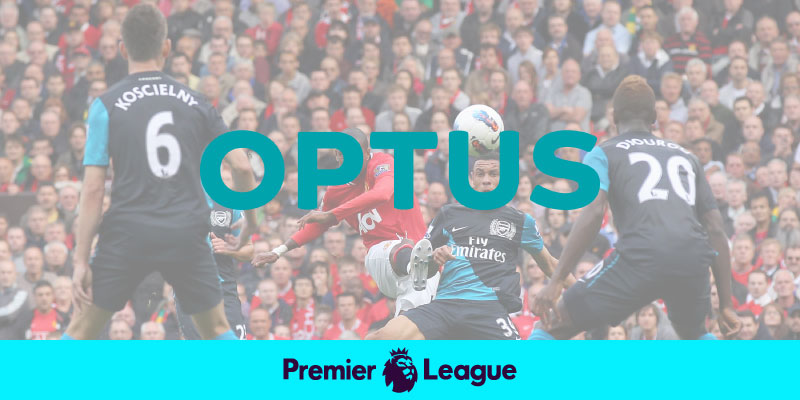 With a VPN, you can watch Optus Sports outside Australia. Simply connect to an Australian server and then you can subscribe and/or watch the EPL games live!
Watch EPL live streaming on NBC (USA)
While the UK and AU accents are definitely charming, you might like the American accent better. So you can tune in NBC to watch Premier League live games. You'll need a cable account to access the channel.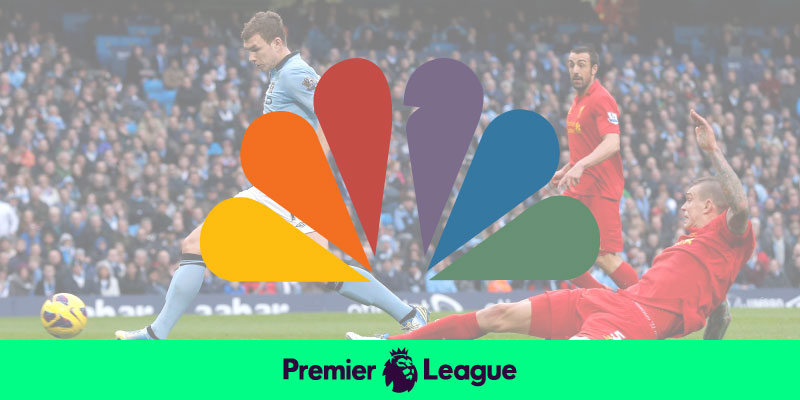 Unblock NBC abroad with a VPN: Connect to a server located in the US to subscribe and watch games!
Watch Premier League live stream on Sling (USA)
Sling TV package is affordable and you can watch EPL games. So it's definitely an option for you. And you won't need any cable subscription to watch Sling, which is nice.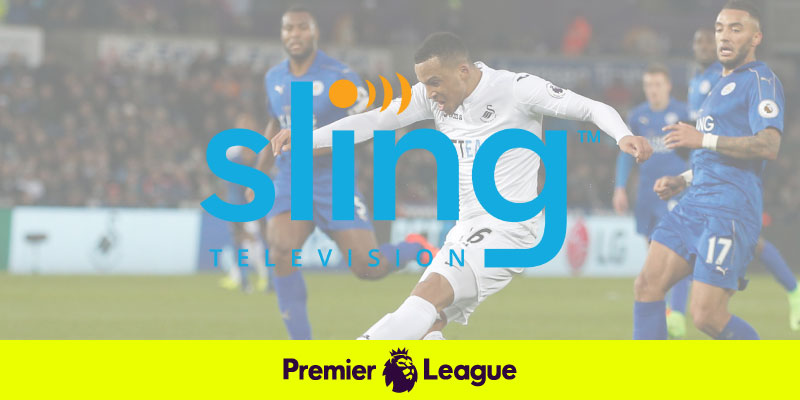 To access Sling outside the US, you must connect to an American server. After that, you can easily subscribe and watch EPL live streaming.
Watch Premier League on Sportsnet (CA)
The Canadian Sportsnet broadcasts 190 Premier League matches via online streaming with Sportsnet NOW and Sportsnet World NOW. And fans can also visit their site for videos, highlights and news from around the PL.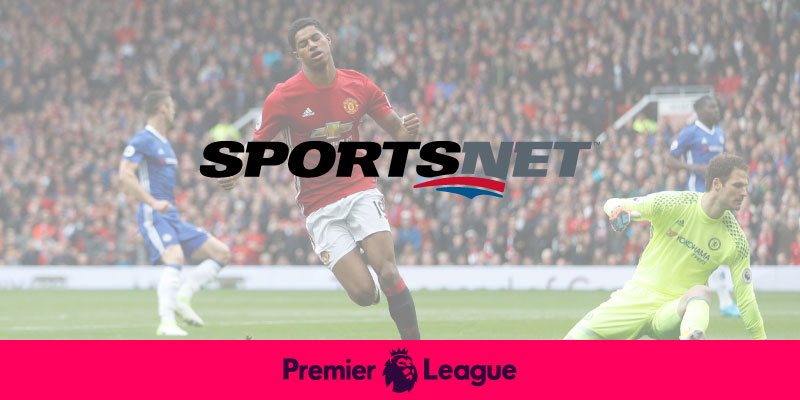 To watch Sportsnet outside Canada, connect to a Canadian server. After that, refresh the page to subscribe and watch EPL games.
Watch EPL live on BeIN (ME)
Last but not least on my list: BeIN Sports. And it's one of the cheapest package on this article to watch EPL live streaming. So if you didn't subscribe anywhere yet, take a look at their pricing.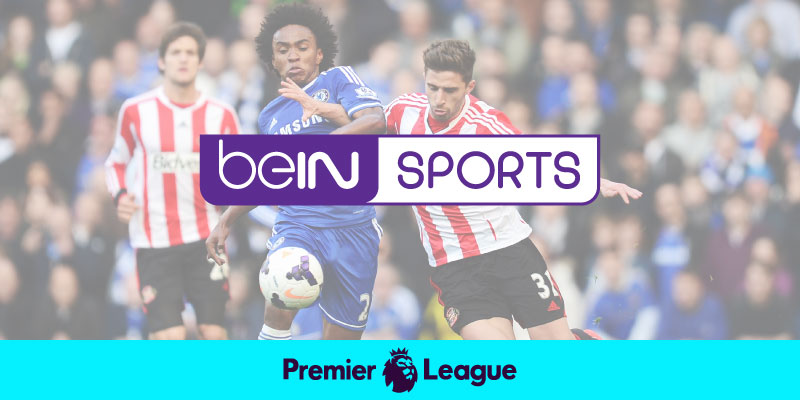 BeIN is restricted to Middle East, so you need to connect to a server in North Africa or the United Arab Emirates. And then you'll be able to subscribe to the channel and watch EPL games!
Try ExpressVPN Now
30-day money-back guarantee
Tutorial to watch Barclays Premier League live streaming online
Finally, here's my step by step guide on how to get going. And it works with most VPN providers, if not all.
Choose a VPN from the list above (make sure there's a server where you need)
Click on the orange button to access the VPN official website
Subscribe to their service (follow the on-screen instructions)
Download, install, and launch the software on your device
In the client, select a server located in:
Region
Channels
United Kindom
Sky Sports / Sky Go
BT Sport
BBC
Australia
Optus Sports
United States of America
NBC
Sling
Canada
Sportsnet
Middle East (North Africa countries or the United Arab Emirates)
BeIN
Click on the "Connect" button
Go back to the channel's website and refresh the page to watch EPL live streaming: Done!
This was my guide: EPL live streaming | How to watch Premier League live online? Stay tuned for more articles coming soon.
Before you go sports fans!
I have many other tips to watch sports online with a VPN. So enjoy accessing restricted content and read the articles below: