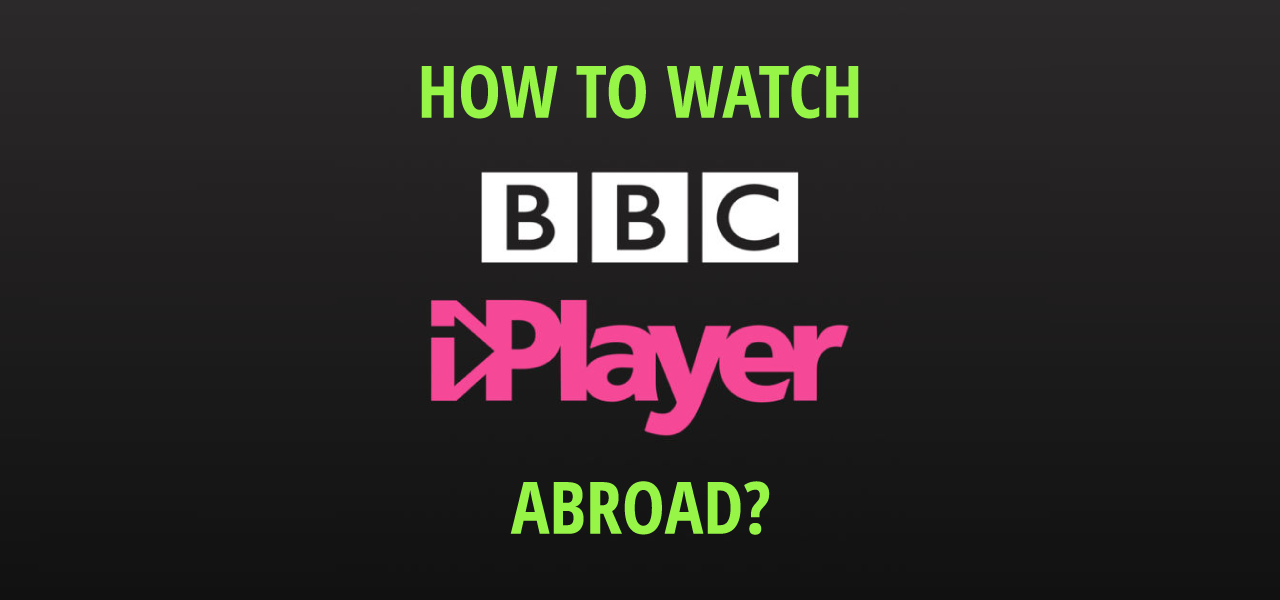 I love everything about about BBC iPlayer. The streaming platform gives you access to all BBC programs on any device without annoying commercial advertising. But there is one downside: You can't watch BBC iPlayer abroad for free – it's only accessible with a UK IP address. That's right, even if you're a UK citizen, you can't watch iPlayer abroad. Luckily, I do know a way you can access the BBC iPlayer outside the UK. And, even better, I can get you a free VPN for BBC iPlayer from one of the best brands on the market.
Try ExpressVPN Now
Are you looking for the best way to watch BBC iPlayer abroad?
Try ExpressVPN today, free for 3 months and unblock BBC iPlayer overseas without any issues. Exclusive deal.
Can I watch iPlayer abroad?
As I mentioned above, it's not possible to watch BBC iPlayer abroad for free. If you're on holiday or on a business trip – let's say in France – and you want to catch up on the latest Doctor Who, you'll get this message: BBC iPlayer only works in the UK.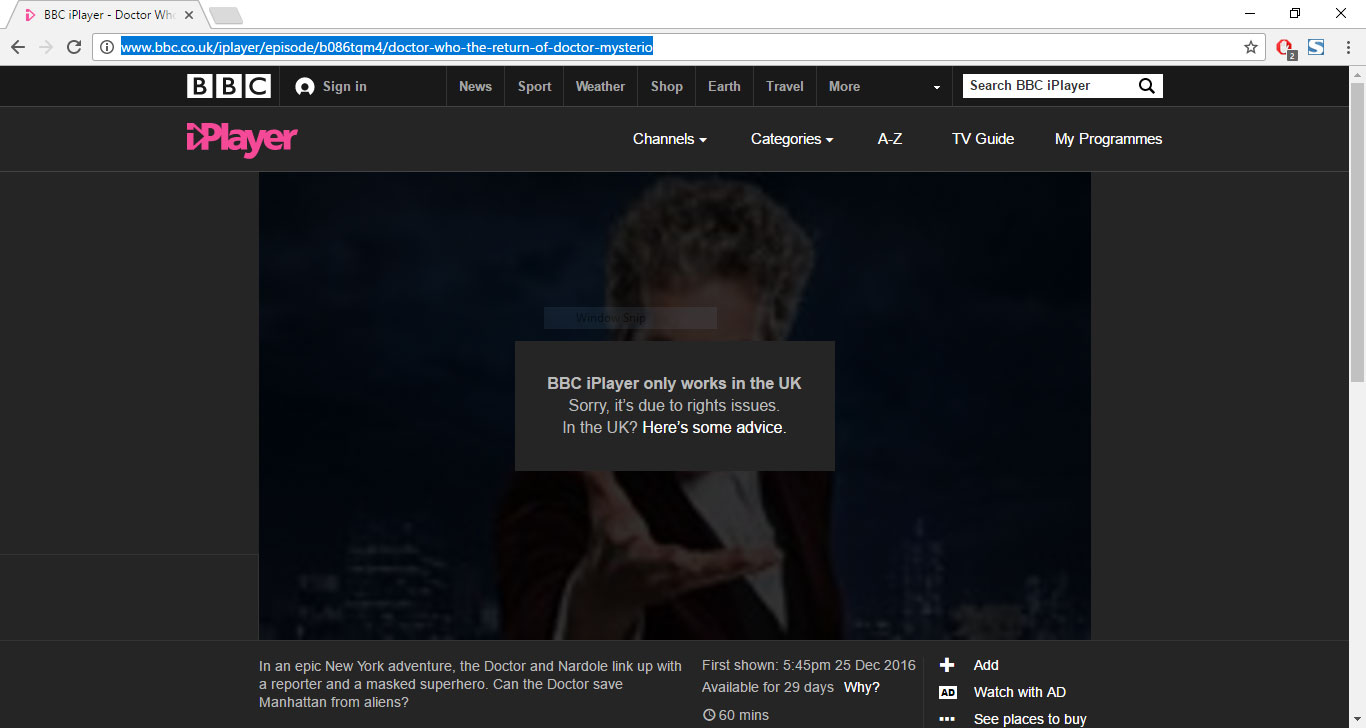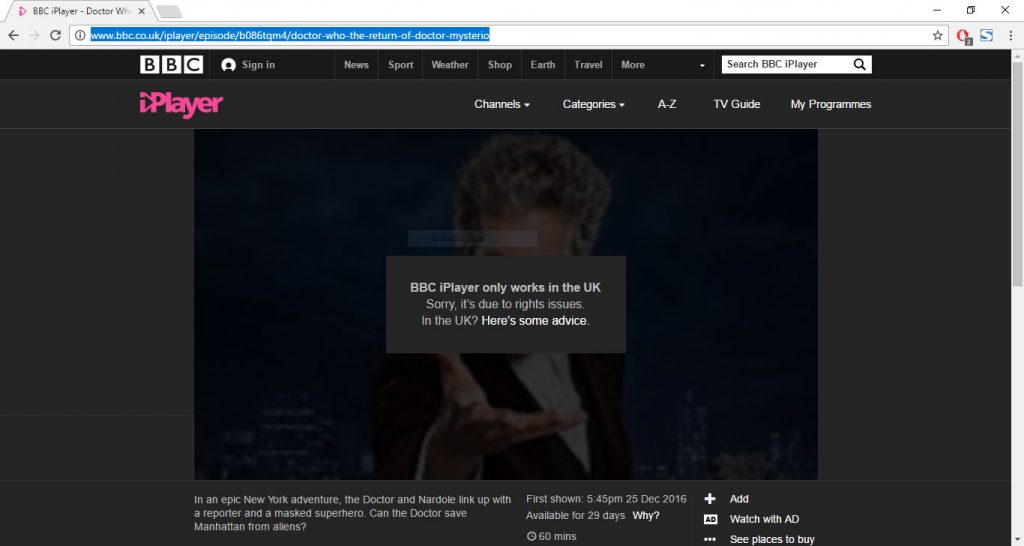 Why?
Well, as the error message states, the reason you can't watch BBC iPlayer abroad is due to broadcasting rights. Content on the BBC is paid for by the UK public, through the annual TV licence fee, as well as broadcasting agreements with third parties. Within these agreements, there are certain restrictions and regulations in place. One of these is that the BBC iPlayer outside the UK isn't available.
The good news, is that there's a 100% legal way to watch BBC iPlayer abroad for free (or at least for free if you already pay for your TV licence). I'm not talking about piracy or illegal streaming with their joys and sorrows, either. No, with this solution you can actually watch iPlayer abroad, rather than having to find an alternative.
Try ExpressVPN Now
Save 49% + 3 Months FREE (Valid Until October 2023)
How to watch iPlayer abroad?
To watch BBC iPlayer outside the UK, you first need to subscribe to a VPN service. If it's your first time here, I talk about VPNs a lot, so check out my what's a VPN guide to know what I'm talking about. A virtual private network (VPN) is a type of software that manages all your online traffic. Your data will travel through a VPN server, instead of directly using your internet service provider's (ISP) network. Although it sounds technical, a VPN is the perfect solution to help you watch BBC iPlayer abroad for free.
But how? Well, when you set up your VPN, you can choose which server your traffic travels through. Your original IP address is hidden, with the server's IP replacing it. So if you connect to the UK server – even if you're not actually in the UK – your traffic will seem to originate from the UK to anyone looking. The BBC website will see your IP address is located in the UK, and as such, you'll be able to watch iPlayer abroad whenever you fancy. Mission completed!
What else can I do with a VPN?
A VPN's first and foremost responsibility is to improve your privacy and security while browsing the web. I recommend that no matter what you're planning to do on the internet, you should always use a VPN on all your devices. A VPN creates an encrypted tunnel between your computer and its server, meaning snoopers – like hackers, ISPs or even the government – can't access your data. You're completely protected.
As you are hiding your IP address and replacing it with that of the server, websites you visit have no way of identifying you: You're browsing anonymously.
You can also use a VPN to bypass censorship and access geo-restricted content. The same way you use it to access BBC iPlayer outside the UK, you can connect to Facebook from China, or watch American Netflix from the UK. Most VPN providers offer servers on all continents, so you can connect to the country where content is accessible and get around restrictions.
Another lesser known benefit of using a VPN is the prevention of data throttling. Data throttling is something your ISP often does if they detect you streaming videos or gaming online. They throttle your data so that everyone has equal share to the network, but this can quickly lead to slow loading and – even worse – buffering. And if you're on holiday, and are having a quick break from the sunshine to watch iPlayer abroad, the last thing you want is buffering slowing you down.
Is using a VPN to watch iPlayer abroad safe?
There are two types of VPN: Those that let you watch BBC iPlayer abroad for free, and those that let you watch BBC iPlayer outside the UK safely. As long as you use a trusted brand to watch iPlayer abroad, your data will be safe. Trusted brands (like those I've ranked below) won't collect any identifying data and offer no-log policies. Most of them were created as a mean to fight against surveillance and censorship online, so they value your privacy and security.
I can't say the same for free VPNs.
If you're using a free VPN, there's a risk. You know the saying: "If You're Not Paying For It, You Become The Product". Your navigation data has a value for companies and marketers, and some free VPN brands might use this for commercial purpose… And that's only the best case scenario.
How much does it cost to watch BBC iPlayer outside the UK?
You know what I think about free VPNs… and I wouldn't recommend trying to use one to watch BBC iPlayer for free. Not just for safety either, most simply won't work, or be too slow for proper streaming. If you want watch BBC iPlayer outside the UK, you have to accept that a good VPN is not free, but it is cheap. Treat yourself to a proper VPN so you can watch iPlayer abroad with full HD streaming. If you don't like commitment, you can subscribe to a VPN for a single month. It's easy and you won't have any unpleasant surprises.
Most VPN services will cost you between £5 and £10 for a month. But if you subscribe for 6 months to 2 years, you can get much better prices, with over 50% discounts.
In the introduction, I did promise you a way to watch BBC iPlayer abroad for free. And I do like to keep my promises. ExpressVPN – my personal favourite – offer a 30 day money back guarantee. That means you can sign up for a single month, use it to watch iPlayer abroad and if you're not satisfied with the service within the month, you can get a full refund. Essentially, you can use Express VPN to watch BBC iPlayer for free while traveling for a whole month.
The best VPN to watch BBC iPlayer outside UK?
Now to provide the goods. Below is a list of the best VPN for watching BBC iPlayer outside the UK. For my ranking, I score each brand on  three criteria: Simplicity, speed and value for money.
I know you want a simple software. You shouldn't have to be a computer whizz to be able to watch BBC iPlayer abroad for free. That's why the below VPNs can be set up and left to work in the background.
The speed of the VPN connection is of course super important if you want a good streaming experience, too.
Lastly, value for money. Most of you are here to see how you can watch BBC iPlayer abroad for free. So if I can't offer you a fully free service, I can offer you a cheap, good value for money alternative.
You will notice that some of the VPN providers, offer very specialized services. Some focus on free trials and 30-day money back guarantees in order to make you feel comfortable with your choice. Others will focus on providing excellent customer support, whether it's via telephone, live chat or mail correspondence.
How to watch BBC iPlayer abroad with a VPN
Below is a simple guide to set up your VPN, so you can access BBC iPlayer outside the UK. It should work with most VPN services. Let me know if you're stuck somewhere.
Choose a VPN software from my list above (honestly, those are all worthy of your trust)
Click on the "WEBSITE" button to access the VPN official website
Create an account and subscribe to the service
Download, install and launch the software
In the software select a server in the UK
Click on the "Connect" button
Go back to the BBC website or app, log in
That's it! Now you know how to watch BBC iPlayer abroad. It feels like home again.
This was my guide: How to watch BBC iPlayer outside the UK? Follow the guide Stay tuned for more articles coming soon.