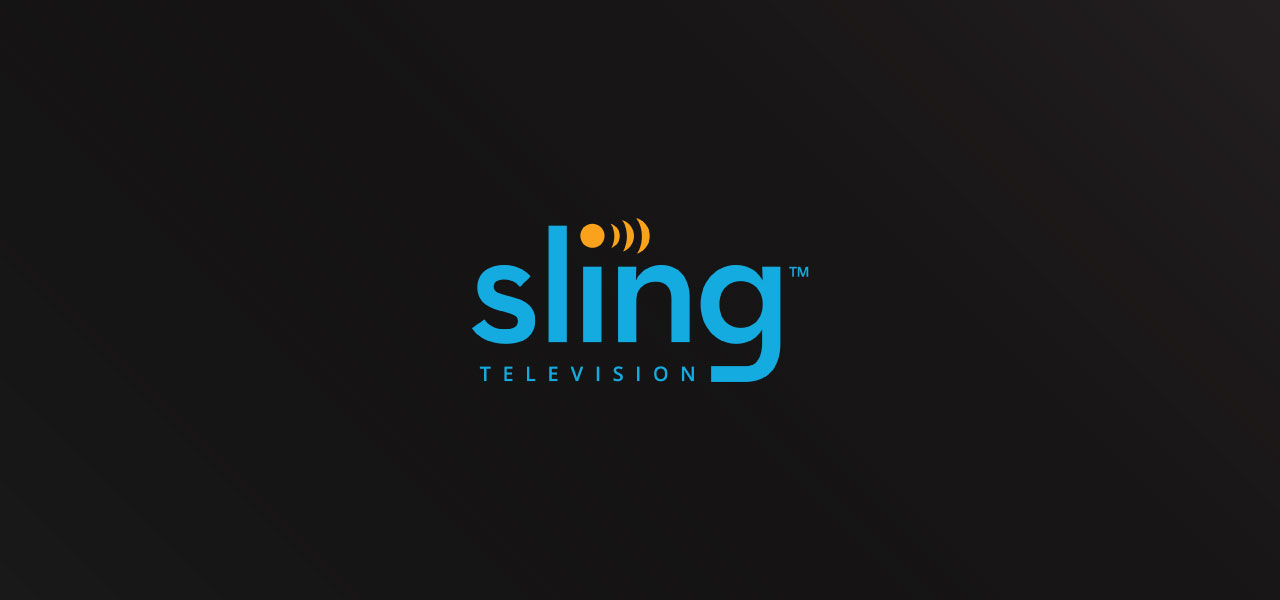 Sling TV is a multi-channel live TV service that streams over the internet. It launched in the US in 2015, and also offers on-demand videos. It's main aim is to allow users to bypass cable providers, by providing them a much cheaper package that can be accessed through an internet connection. The package is pretty attractive but unfortunately Sling TV is only available US citizens. So what about if you want to watch Sling TV outside the US? Well, we've got three letters for you: V P N. Read on to find out how you can watch Sling TV in the UK.
Try ExpressVPN
Are you looking for the best way to watch Sling TV in the UK?
Try ExpressVPN today, free for 3 months and unblock Sling TV in the UK without any issues. Exclusive deal.
Last Update Made On: 3 October 2023
Why can't I watch Sling TV in the UK?
If you're trying to access or watch Sling TV in the UK, you'll likely see the screen below. Yep, not only can you not use the streaming platform, you can't actually access the site itself!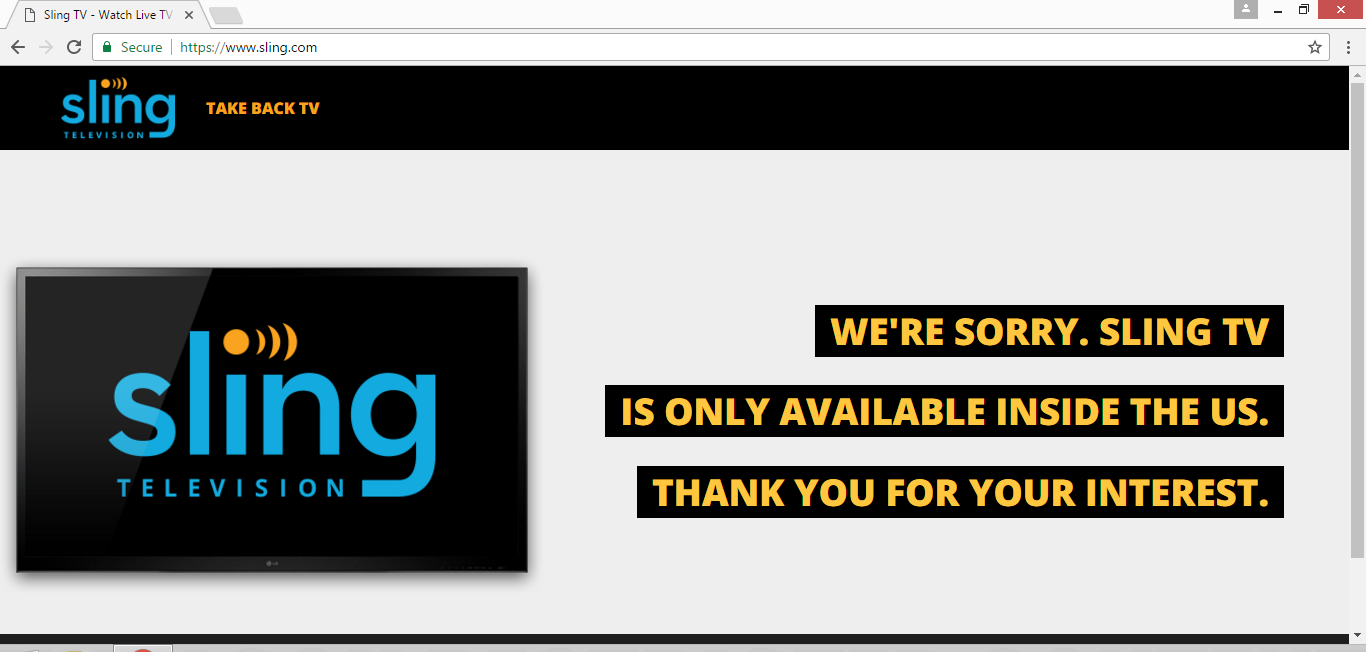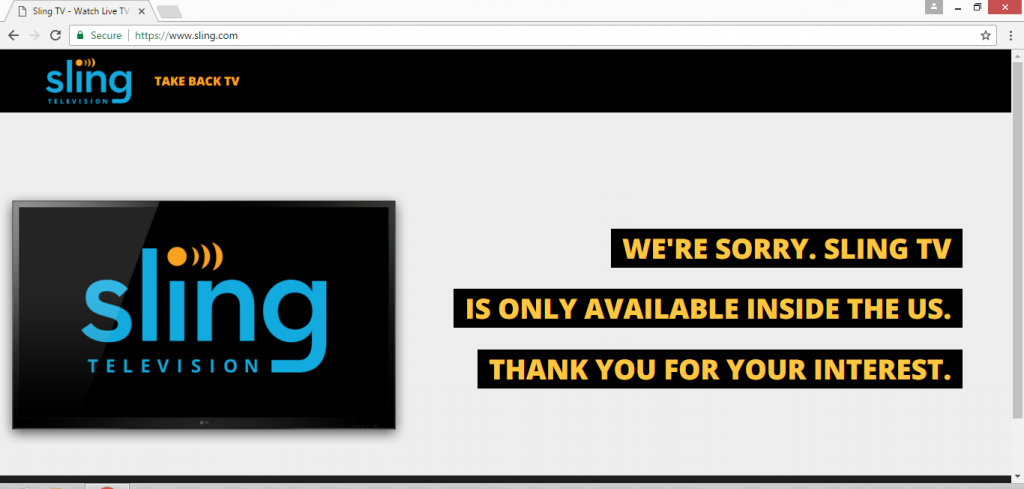 This is all down to the licensing and television stakeholder rights. When producers create a new show or film, they will sell the rights to the content to broadcasters like Sling or Netflix with terms and conditions. More often than not, these conditions include geo-restrictions; the broadcaster doesn't have the right to show the content outside of the origin country. Geo-restrictions are the reason why you can't access Netflix US, Hulu or, Sling TV UK.
Luckily, there is a solution.  Today I'm sharing with you the completely legal and easy way to watch Sling TV UK. Because I'm not talking about low quality free streams which buffer every five minutes and put you at risk of viruses, or sites that are flooded with ads. Nope, what we're discussing here is how to actually access Sling UK.
Try ExpressVPN Now
Save 49% + 3 Months FREE (Valid Until October 2023)
How to watch Sling TV in the UK
Sling TV geo-restrictions are based on your IP address. You IP address tells the site where you're located, and if that's not the US, you won't be granted access. Thankfully there is a tool to hide or change your IP address, which will enable you to pretend you're in The States. And that's a VPN. There are other ways to watch Sling TV in the UK, which use a proxy option, but I always recommend a VPN.
It's easier to navigate, quicker to set up and makes streaming content simple and smooth. With a VPN, you can choose where your IP address appears. For Sling UK, connecting your IP address to a US server via a VPN, will allow you to watch Sling TV in the UK without putting yourself at risk with free dodgy streaming sites. Yep, you can just head over to the official website and get streaming in HD.

Don't believe me? Well, here's what happens when I try to access Sling UK while connected to a VPN server in San Francisco (spoiler alert, I'm not actually in San Francisco). Now I can see the full site, their current subscription offer and even access a 7 day free trial. Even better, I can watch 7 days of Sling TV in the UK without it costing a penny.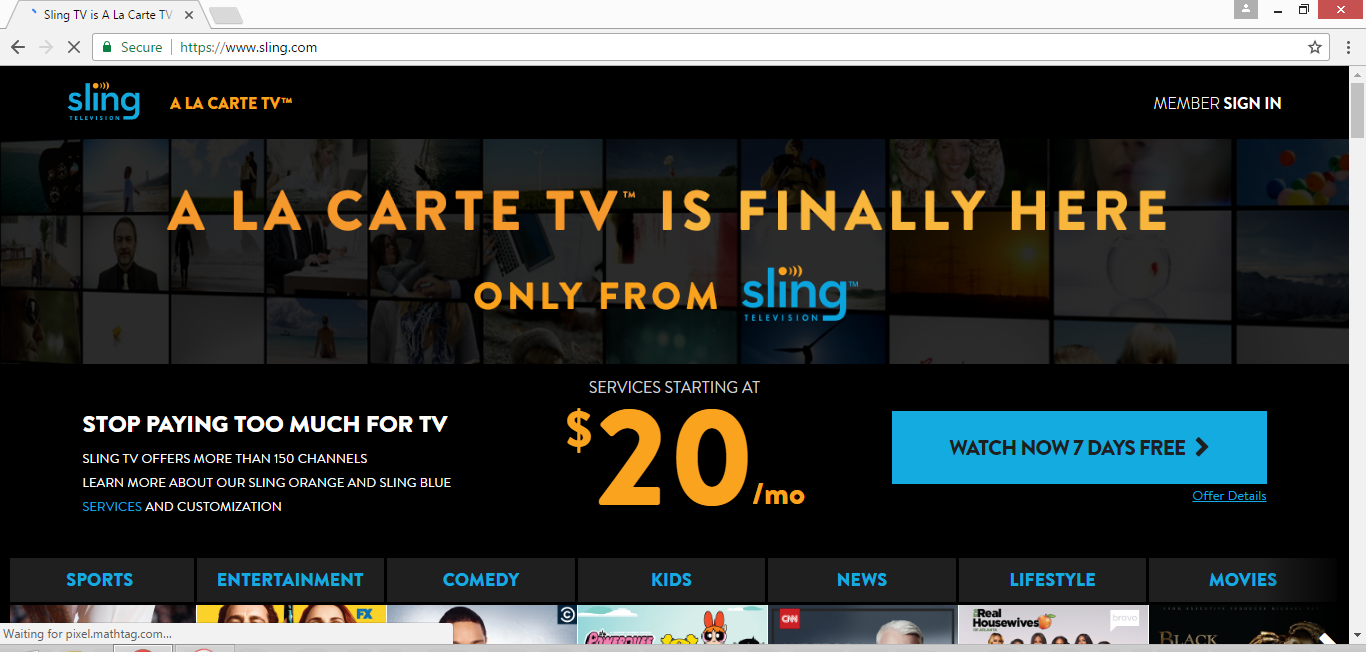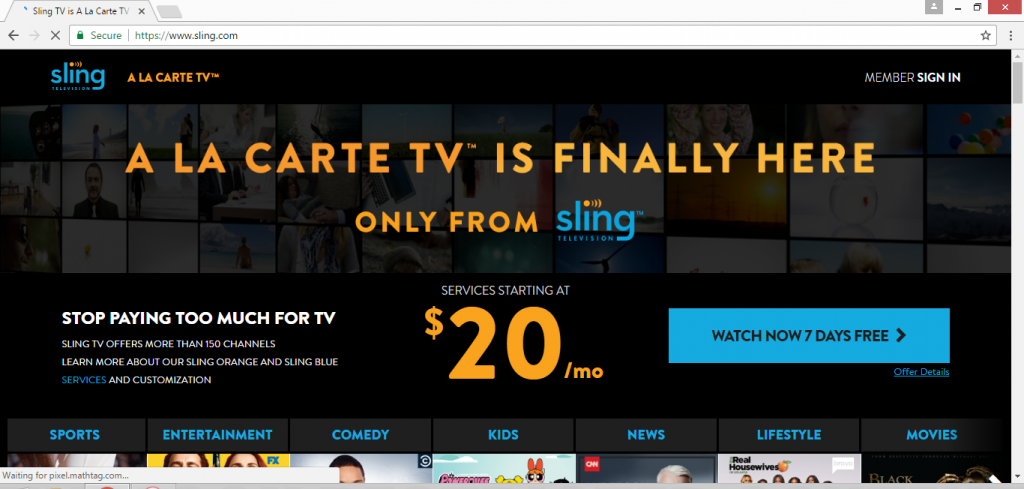 Why do I need a VPN?
First of all, a VPN gives you access to all geo-restricted content – not just Sling TV UK, but everything from US Netflix and Comedy Central, to NBA games. And it's not just US content you can watch either, if there's a Bollywood channel you love, or fancy taking a look at the latest Korean drama, you can access servers in those countries and you're free to watch till your heart's content.
While accessing geo-restricted content might be enough to sway you to get yourself a VPN, this is actually only an additional benefit. A Virtual Private Network's main goal is to protect your privacy. When you connect to a VPN, your IP address is replaced with an IP from their own servers. This means internet service providers or other sites can't actually identify you. Essentially, you are browsing anonymously.
As well as switching up your IP address, a VPN encrypts your connection. All your traffic goes through an encrypted tunnel which means snoopers and cybercriminals – as well as ISPs and even the government – can't access your data. You might not realise, but we all willingly post a huge amount of personal data online: Store login accounts, email passwords, and even our bank details could be being tracked by hackers, but with a VPN, you can rest assured you're safe.


Personally, I use a VPN, on all my devices, at all time. Even if you think you have nothing to hide, you leave traces of activity and data everywhere you visit online. All this data can quickly be used to identify you or worse, locate you. I just think it's better to be safe than sorry…
How much does a Sling UK VPN cost?
The best thing about VPNs is that they're affordable and great value for money. You can find a cheap VPN for as low as £2.50 a month. Essentially, we're talking about the price of a pint a month to guarantee your privacy online, bypass geo restrictions and watch Sling TV in the UK. Not bad, right?
VPN services typically offer different contracts to suit your needs, too. So you can watch Sling TV in the UK by paying for a single month, or keep the binge-watching going with a 6 month or annual subscription. I'd recommend going for a months subscription minimum, as the longer you commit, the better deal you get. With an annual package, you can easily find yourself saving 50% discount.
Can I use a free VPN for Sling UK?
Is anything really free in these days? The people offering free VPNs are no NGOs. Behind their service is an expensive network with hardware, software and employees. So how do they pay for if they're offering their service for free? Well, free VPNs are renowned for selling data onto third parties. Not being able to access Sling UK (as most free VPNs don't actually work) will be the least of your worries.

The Best VPNs For Accessing Sling TV UK
There are tons of VPN services available on the market, but not all of them will work for Sling UK. Lucky for you, I've already done the research and can offer you a list of recommendations to help you watch Sling TV in the UK undisrupted, buffer and ad free. I've ranked the VPNs with the following criteria:
My experience: Simply put, I  just prefer some VPNs better than others…
The speed of the VPN: Speed is very important if you want high quality streaming without buffers
The VPN gets blocked: Using VPNs for restricted content is often frowned upon by streaming platforms, and as such the VPN may get blocked. My list of VPNs never or very rarely get blocked.
Servers in the US: To watch Sling TV UK, you need to be able to access a US server.
How to access Sling UK with a VPN
So, with any of the VPNs above, you should be able to access Sling TV UK. All of these brands are renowned for their great service and high focus on internet privacy. All that's left to do now is to set up your VPN so you can get streaming.
Here's a very simple step by step guide for setting up your VPN to watch Sling TV in the UK. The set up might be slightly different for each VPN provider, but most will follow this process:
Choose a VPN from the list above
Click on the orange button to access the VPN official website
Choose a package and set up your account (follow on-screen instructions)
Download, install, and launch the software
In the program, select a server located in the US
Click on the "Connect" button
Go back to Sling's website or app and refresh the page
You should now be able to sign up for a Sling UK account and take advantage of their 7 day free trial.
Try a VPN for free for Sling TV UK
On the topic of free trials, a lot of the VPN providers from the list above offer new users a free trial or money back guarantee. ExpressVPN, for example have a no-risk, 30 day money back guarantee. So, you can sign up and claim your 30 days AND your Sling UK free trial and get watching all your favourite shows for absolutely free. If you're not happy or satisfied with the VPN service within the first month (or after your Sling TV UK trial runs out, for example…), you can get a full refund. What have you got to lose?
A VPN for all devices
It's also worth mentioning that once you've signed up for your VPN, you can connect up to five devices, which each device typically having its own designated app. Mobile apps for Android and iOs are available for keeping you safe while on the move. Meanwhile there are also VPN options for Amazon Fire TV and Apple TV. So you can watch Sling TV UK as well as accessing other streaming services.
Try ExpressVPN Now
Save 49% + 3 Months FREE (Valid Until October 2023)
So, does Sling TV work outside the US?
I've hopefully covered this topic in enough detail to show you how to access Sling TV UK outside the US. It can be done with a VPN. Your VPN will also allow you to access other geo-restricted content, as well as keeping all your personal information and data secure while you browse. I've also listed the best VPNs for the job, and shown you how to set it up. I don't think I could have given you more information! Head on over to Sling TV UK and enjoy!