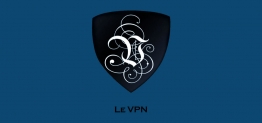 Today, on the benchmark: Le VPN. It's provided by a company of French people based in Hong Kong. Launched in 2010, it's been on the market for some time now. They focus on protecting your connection and bypassing Internet restrictions. To achieve this, Le VPN offers HybridVPN servers to simplify and speed up the streaming of geo-restricted content. Let's review Le VPN in details now.
LeVPN: Unblock British TV and streaming services
One of my Italian readers who lives in the United States and has an English wife told me that she was using Le VPN to access the BBC and other English channels.
Since it's the first time I find a VPN that has specific features for a particular language group, I decided to do a Le VPN review.
Le VPN's exclusivity is in their innovative HybridVPN. What is HybridVPN? It's an OpenVPN connection with SmartDNS. With this connection you unblock restricted content. It means you can watch American Netflix and BBC iPlayer from abroad. And this whether or not you chose a server in the US or in the UK.
Le VPN: Plans and pricing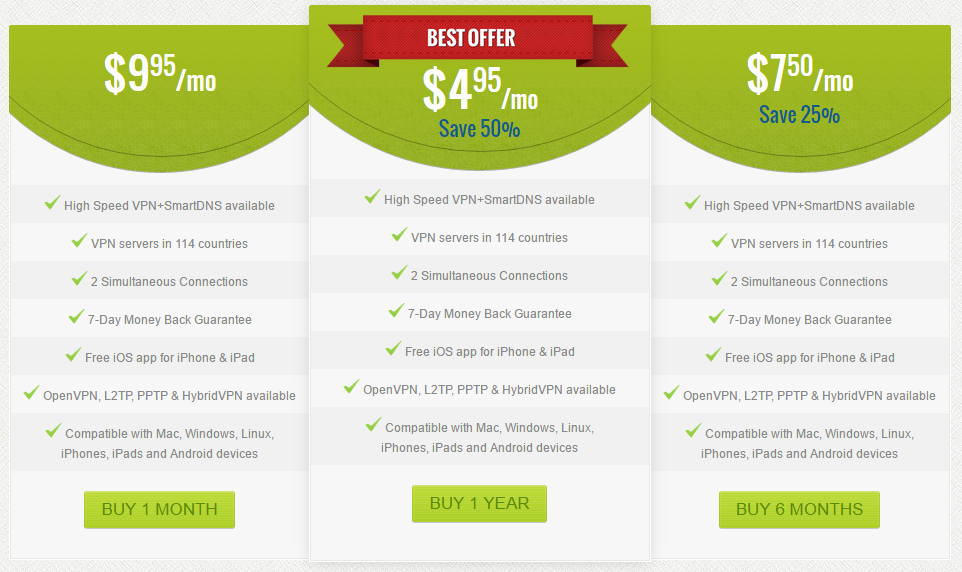 Nothing too fancy here. Their offer is in the average price range. While the cost of a one-month subscription is higher than the general average of market prices. The price of the annual subscription is even below the price of the most expensive VPNs.
Click on the picture to get the latest promotion for Le VPN. New discounts are often available.
To help you make up your mind, you can try their service for 7 days. They have a money back guarantee policy. Then you're satisfied or refunded.
Summary sheet for LeVPN
| | |
| --- | --- |
| Traffic data | Unlimited |
| Net Type | Private |
| Encryption | 256 bit AES Cipher |
| Server Switches | Unlimited |
| Servers | 114+ |
| IP addresses | ND |
| Protocols | OpenVPN, PPTP & L2TP, HybridVPN |
| Supported Devices | PC (Windows, Mac, Linux), Android (manual), iOS (app) |
| OpenVPN supported | Support for SSL-based OpenVPN protocol with 256-bit data encryption |
| Support type | Tickets on the website |
| Money back guarantee? | Possibility of withdrawal within 7 days |
| Covered Countries | 114+ |
| Multi Login | 2 |
The VPN Le VPN in details
A PC Software is developed in collaboration with Viscosity
The software for Windows and Mac is special. It looks very much like a custom client, with the usual connection options (server selection with a login button – disconnect). On the other hand, the entire interface offers more advanced options. I must say that I'm not a big fan of the interface.
The list of servers presents the default servers of the VPN. But it leaves the possibility to create new profiles (as other VPNs might) and contains connection information similar to Viscosity.
Classic use: A server selection for everyone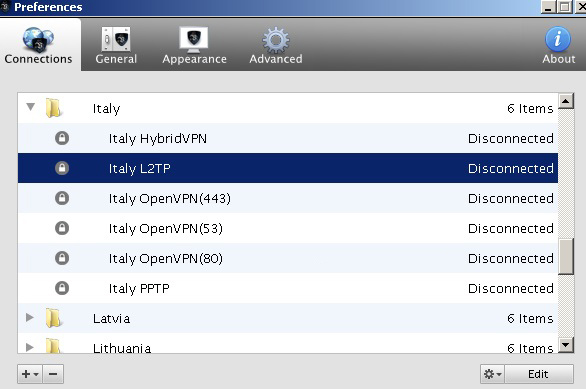 It's possible to modify in depth the options of each VPN profile. However, you can also make a classic and simple use of the software.
Once you launch the application, you land on the list of servers. Servers are divided into folders, with the country names. You can rename every folder as you like it. Inside each folder, you find the VPN protocols available for the country: PPTP, L2TP, OpenVPN or HybridVPN.
Just select a protocol and right click. Then click on Connect. That's it, you're connected.

To disconnect, right click again on the protocol. Then click on Disconnect. Done, you're back to unsafe internet.
Le VPN: Logs and statistics, like Viscosity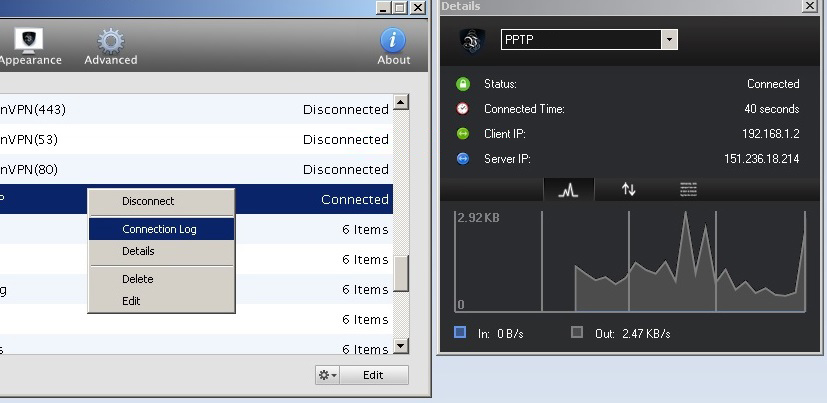 For figures and graphics enthusiasts, some of the functionalities from Viscosity are integrated. It's interesting to follow the tracing of the data you used. To get there, just right click. Select Connection Log and click again. You'll get access to the software-side information.
General options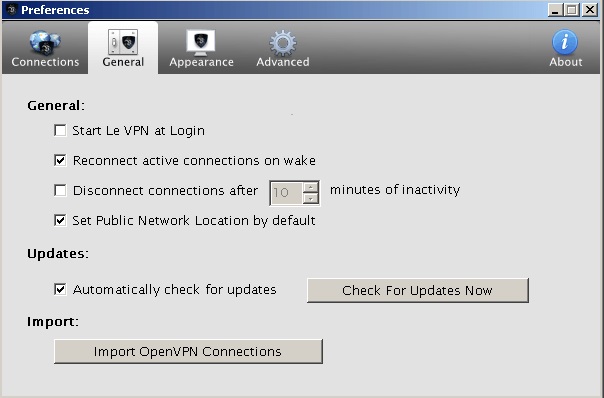 The Le VPN basic options are located on the General tab. In particular: You can start LeVPN at the computer's start-up. You can also choose to stay connected or to disconnect in case of inactivity (interesting option). And you can even set Public Network Location by default. So the software will consider every new connection as public. Therefore nothing will be shared (No folder, no printer etc.).
Go to the Appearance tab if you want to change the icons. Or if you want to view your IP, or not. No screenshot here…
Advanced options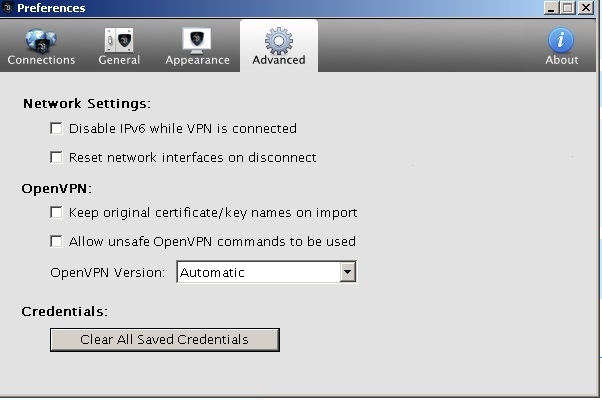 On the Advanced tab, there are the (generally little-used) options. Among them you will find: Disable IPv6 (for compatibility purposes) and reset the network interface after you disconnect. These may be useful in special cases. Or if you meet problems.
Advanced connection options
It's not possible to edit or delete any default connection. But you can view each connection to see how it's configured. At least, you won't delete any of them by mistake!
Should you need to change the configuration, just duplicate any connection. And then modify its parameters. This way, savvy users can add scripts or change settings on their connection.
The mobile app: Nothing to see here…
For now, Le VPN offers only one application, for iOS. This application helps you to install the profiles. But you need to launch the VPN manually, from the Settings> VPN menu.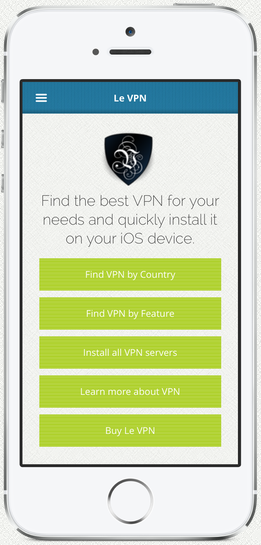 There is no app for Android. Therefore, you have to setup each profile manually. This operation is not difficult and takes only a few minutes. But the lack of a native application can be a negative point if you change server often.
Le VPN is P2P and torrents friendly, on selected servers

The privacy policy of LeVPN indicates that no trace of user activity is retained. Unfortunately, they also specify that, should you be guilty of copyright infringement, they would give your details to the authorities. But it's obvious. It's forbidden to commit any illegal act with a VPN. And the laws from the country where you connect apply.
That said, Le VPN offers ad-hoc servers for P2P and torrents. Users can use them to download files. I guess these files are Linux distribution…
HybridVPN and SmartDNS

As I said earlier, Le VPN provides a free access to a SmartDNS service (like PureVPN). But this service is only available for the American, British and French channels.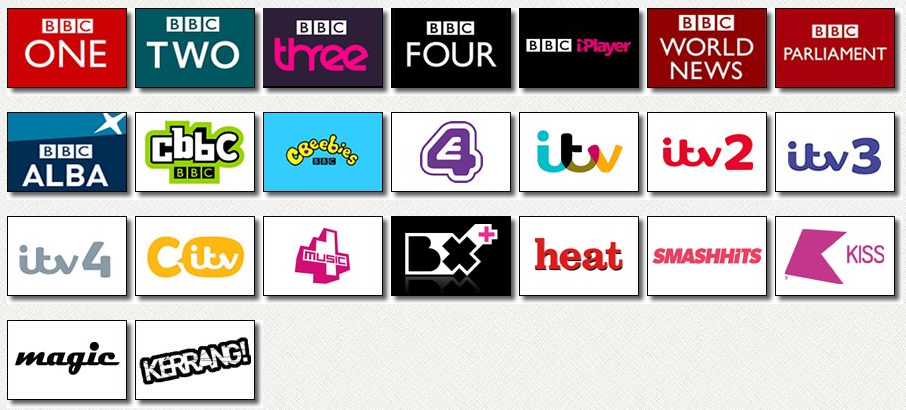 You can obviously unblock the channels from other countries with Le VPN. But not with their SmartDNS service.
If your primary need is to access UK Netflix. Or if you need to unlock US or UK game servers on PlayStation and Xbox. Then this service works very well.
On the VPN site,  there is a page where you can register your IP address. Then you'll receive the SmartDNS information and the guides to configure them.
Last point of this LeVPN review: Keep and eye on their website. It seems that they're adding new countries for SmartDNS.
[offer_product]
Le VPN review: Good
Le VPN is a good VPN solution mostly for the HybridVPN server countries. It is suitable for all those who need an easy-to-use VPN to watch streaming TV and bypass censorship. At home or abroad. The price is decent for the service.
---
PROS
UK, the USA and France have HybridVPN
P2P and torrents allowed
Decent pricing
Simple interface
CONS
Mobile apps
Log policy for P2P and torrents
No built-in firewall (NAT firewall)
No IP binding