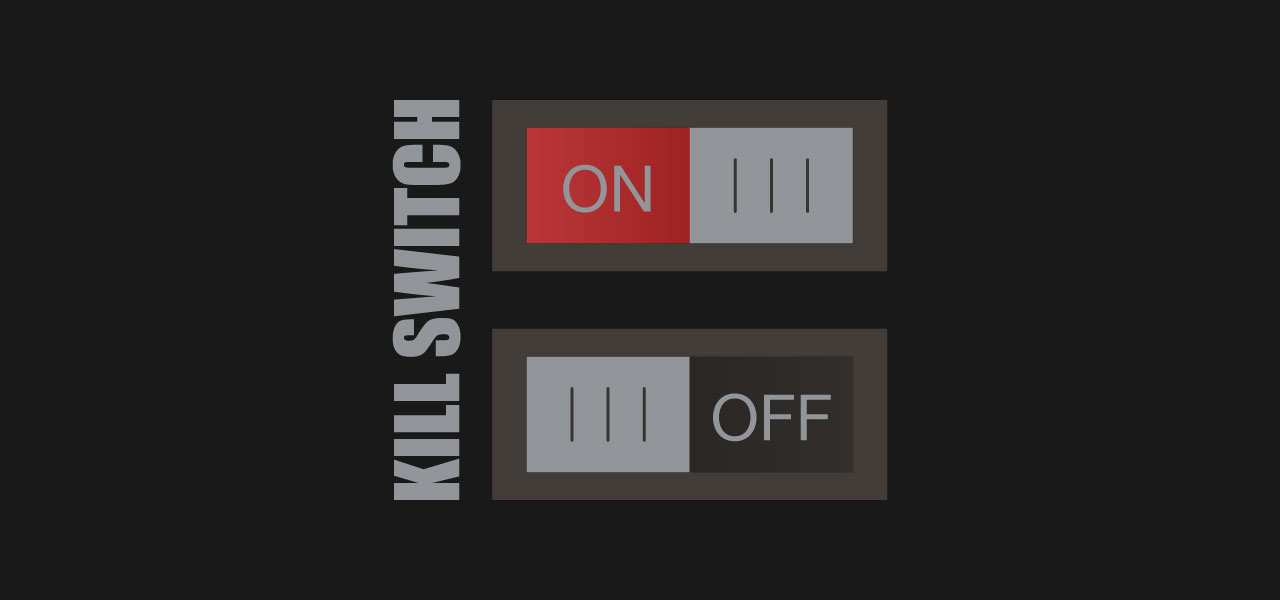 While I've talked about kill switch VPNs several times in other reviews, I've never written a specific article about the best VPN with kill switches or how to actually test a VPN kill switch. So if you're wondering how they actually work, or where you can find the best VPN kill switches, you've come to the right place. I'm going to discuss what a kill switch actually is, how to test a VPN kill switch, and explain why you should always have it enabled. I'll also share the best free VPN kill switches to save you some trouble.
Try ExpressVPN Now
Look no further, here's the best VPN!
Enjoy unlimited streaming and torrenting, anywhere in the world and protect your privacy online. With this exclusive offer, you can use ExpressVPN 30 days, risk-free!
What is a VPN kill switch?
When looking for the best free VPN kill switches, you might find they're also known as network locks, app kills, EverSecure or Vigilant. Kill switches are a clever feature that most VPN providers have now implemented into their software. The feature protects your privacy even if your VPN connection unexpectedly drops. A connection drop can happen from time to time, so in order to prevent your real IP address being leaked, it's a good idea to use one of the best VPN with kill switches to that you're fully protected at all times.
If you lose your VPN connection, your device's Operating System (OS) will take over to reconnect your device to the Internet. However, the OS will use the default network adapter to restore the connection, rather than your VPN. Therefore, even though it's good to be back online, your connection is no longer protected by your VPN.
In this scenario, you'd then need to reconnect to your VPN in order to re-hide your IP address. But by then, who knows who has got their hands on it…
How does a VPN kill switch work?
Finding the best free VPN kill switches is a particular want for Windows users, but the same issues can arise on Mac, iOS and Android devices. That's why I always recommend using enabling kill switches on all your devices, not just your computer.
The best VPN kill switches will block your internet connection until the VPN is back online. That way, you won't be accessing the internet at all without protection.
Essentially, the best free VPN kill switches will prevents your OS reconnecting until the VPN connection is restored. That way, your privacy is protected: Your device can't share any data, and your real IP address will stay hidden from snoopers!
The best VPN kill switches offer the option to enable or disable the feature.  NordVPN or TorGuard, for example, are two of the best free VPN kill switches where you can actually select the apps to block if your VPN connection is lost. As a result, you can still connect to the internet, but all your sensitive data or activities are protected.
Try ExpressVPN Now
30-day money-back guarantee
Can I test a VPN kill switch?
If you want to make sure your switch is working, you can test a VPN kill switch with the following instructions:
First, you'll need to download one of the best VPN kill switches (see below)
Set up your account and install the software
Connect to a VPN server
Head to a webpage, streaming platform or torrent site
Disconnect from the VPN server, but keep the client open
If you see that your web page no longer works, and your internet is no longer connection, the kill switch is working
If nothing changes, you'll need to go into your settings to enable the switch
If you need help, or struggle to test a VPN kill switch, don't hesitate to contact me and I'll see what I can do! Even if it is just to direct you to customer service…
How to enable kill switch?
Some VPN providers decide to automatically enable the kill switch feature in their client, like CyberGhost. And you don't have the choice to disable it. The best VPN kill switches however, are optional; you'll need to tick checkbox in the settings to enable it.
If your VPN doesn't have an Internet kill switch, then it's impossible to enable it. I'd probably recommend switching VPNs to make sure you're protected – especially if you plan on downloading torrents. Lucky for you, I've already found the best VPN with kill switch in the UK (see below).
How to disable VPN kill switch
If you're not planning on streaming content or downloading torrents, you might not be too fussed about your VPN dropping connection. If you're more concerned about getting straight back on the internet, there is the option to disable the VPN skill switch if needed.
In the same way as enabling, you can just head to the settings of your VPN and turn the kill switch off. Alternatively, you can just disable it for certain apps. You could even test a VPN kill switch to ensure it's disabled.
When in settings, if you find disabling isn't an option, it's probably because the VPN wants to ensure you're protected at all times.
The best VPN with kill switches for torrenting
If you're still wondering why you should use a VPN kill switch, torrenting is a major reason.
Let's pretend you're downloading torrents on a regular basis: Movies, series and songs. You probably already know that you need a VPN to download torrents anonymously (you're not THAT stupid) as it's a pretty frowned upon activity. Most VPNs don't allow torrenting, so  what if your VPN connection drops during download?
Well, as mentioned above, your OS will reconnect to the internet with the default network to ensure your torrent client keeps downloading. However, now, your details are visible. Copyright trolls can get your real IP address, and suddenly you could find yourself exposed to sanctions…
You definitely don't want that to happen, hence why you should be using the best VPN kill switch available. And, before trying to download any torrents, you should test a VPN kill switch, so that no issues arise – even if you leave your computer for a moment.
Try ExpressVPN Now
30-day money-back guarantee
The best VPN with kill switch
Now you know how kill switch works, and why you should use it, I'm going to share with you the best VPN kill switches available. I've reviewed hundreds of VPNs to ensure I only ever recommend the best of the best.
While they all have an internet kill switch feature, some of them don't allow P2P on their network. Therefore, if you need to download torrents, I would recommend you to take a look at the best VPN for torrenting.
If you're looking for the best free VPN kill switches, I have bad news. If a VPN wasn't technical enough, having a kill switch is an even more advanced piece of tech. And tech costs money. If you're a regular on my blog, you'll know that I never recommend freebies, as they're usually a lot more trouble than they're worth. Rather than protecting your data, the best free VPNs kill switches will more likely take your data and sell it to the highest bidder. And that's how they make their money. Just remember to ask yourself if you're paying for a service, how can they afford to provide it?
This was my guide about the best VPN with kill switches. You should now know what a kill switch is, why they're so important and how you can enable your own. I've also provided you with an up to date list of the best VPN with kill switches. You're welcome.
Stay tuned for more articles coming soon.