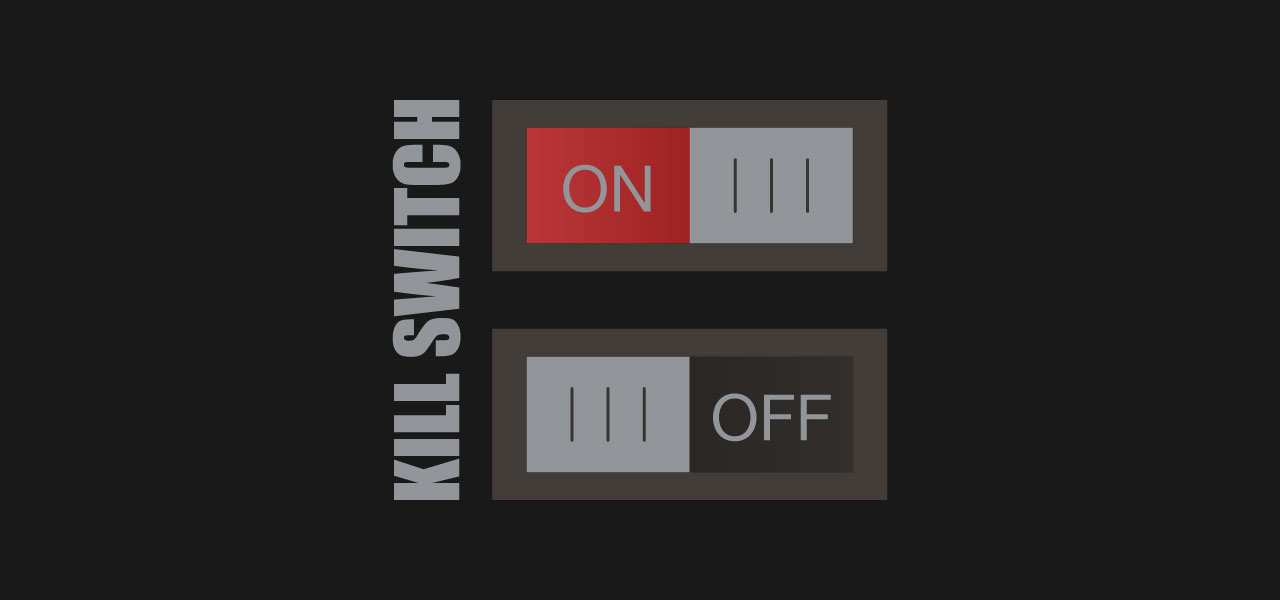 While I've talked about VPN kill switch in many of my reviews, I've never made any article about the kill switch feature itself. But now is the right time. And I'll tell you how does a kill switch work. Because everyone should know what is a kill switch. Indeed, this popular feature is a must-have to protect your privacy online when using a VPN. You'll soon realize why you should enable it on your own device. If your VPN offers the kill switch that is…
Try ExpressVPN Now
Look no further, here's the best VPN!
Enjoy unlimited streaming and torrenting, anywhere in the world and protect your privacy online. With this exclusive offer, you can use ExpressVPN 30 days, risk-free!
What is a kill switch?
A VPN kill-switch, also named network lock, app kill, EverSecure or Vigilant, is a clever feature that most VPN providers have now implemented in their software. Indeed, it protects your privacy in the event your VPN connection unexpectedly drops. Because VPN are just another software. And shit can happen… Therefore in order to prevent your real IP address to leak, VPN clients needed the extra feature.
So let's see what happens if you lose your VPN connection. First of all, your Operating System (OS) will take over in order to reconnect your device to the Internet. In a way, it's nice to know that you don't have to do anything manually. The problem lies in the fact that the OS is using its default network adapter to restore the connection, not your VPN. Therefore, when you're back online, you're in the clear. And your connection is no longer protected.
How does a kill switch work?
While Windows users are especially concerned, it may also happen on Mac or even mobile devices running iOS or Android. Therefore, if your VPN offers a kill switch feature, just enable it. Indeed, the VPN kill switch will block your internet connection until the VPN is back online. And you're sure you won't share any data without protection.
So when your VPN connection drops, your the VPN kill switch prevents your OS to reconnect without the VPN. While you can't connect (until the VPN connection is restored), your privacy is protected. Indeed, your device can't share any data in the clear. And your real IP address is not visible from any snooper!
Furthermore, some VPNs offer a selective kill switch, like NordVPN or TorGuard. And this is just an advanced kill switch, where you can select the apps to block if your VPN connection is lost. As a result, you can still connect to the internet. But all your sensitive data or activities are protected.
Try ExpressVPN Now
30-day money-back guarantee
How to enable kill switch?
Some VPN providers decide to automatically enable the killswitch feature in their client, like CyberGhost. And you don't have the choice to disable it. But most of them offer a checkbox in the settings. So you just need to review the settings to make sure the killswitch option is enabled.
Finally, if your VPN doesn't have an Internet kill switch, then impossible to enable it. Maybe you should consider changing VPN… Especially if you download torrents!
VPN kill switch for torrenting
Maybe you're still wondering why you should use a VPN kill switch. So let me give you an example, my favorite. Because it really helps you realize how useful an internet kill switch is. First of all, let's pretend you're downloading torrents on a regular basis: Movies, series and songs. Furthermore, you know you need a VPN to download torrents anonymously (you're not THAT stupid).
Now let's say you're downloading and your VPN connection drops, for whatever reason. But you're away from your device and you have no clue about it. So your OS reconnects and the torrent client keeps downloading, in the clear!!! Therefore the copyright trolls can get your real IP address. And you're exposed to sanctions…
You definitely don't want that to happen. Because some countries aren't kidding with online piracy. And you could get into a lot of trouble. Therefore you have to enable the VPN kill switch on your client. Period.
Try ExpressVPN Now
30-day money-back guarantee
The best VPN with kill switch
Now you know how does a kill switch work, and why you should use it. While not all VPNs offer a killswitch, the best ones always do. And if you don't know what VPN to choose, no worries. Indeed, I reviewed hundreds of VPN and I share this knowledge with you on Best VPN UK. Therefore if you want the best VPN with kill switch, check my ranking below.
While they all have an internet kill switch feature, some of them don't allow P2P on their network. Therefore, if you need to download torrents, I would recommend you to take a look at the best VPN for torrenting.
This was my guide: VPN kill switch: What is a kill switch? Why should you use one? Stay tuned for more articles coming soon.