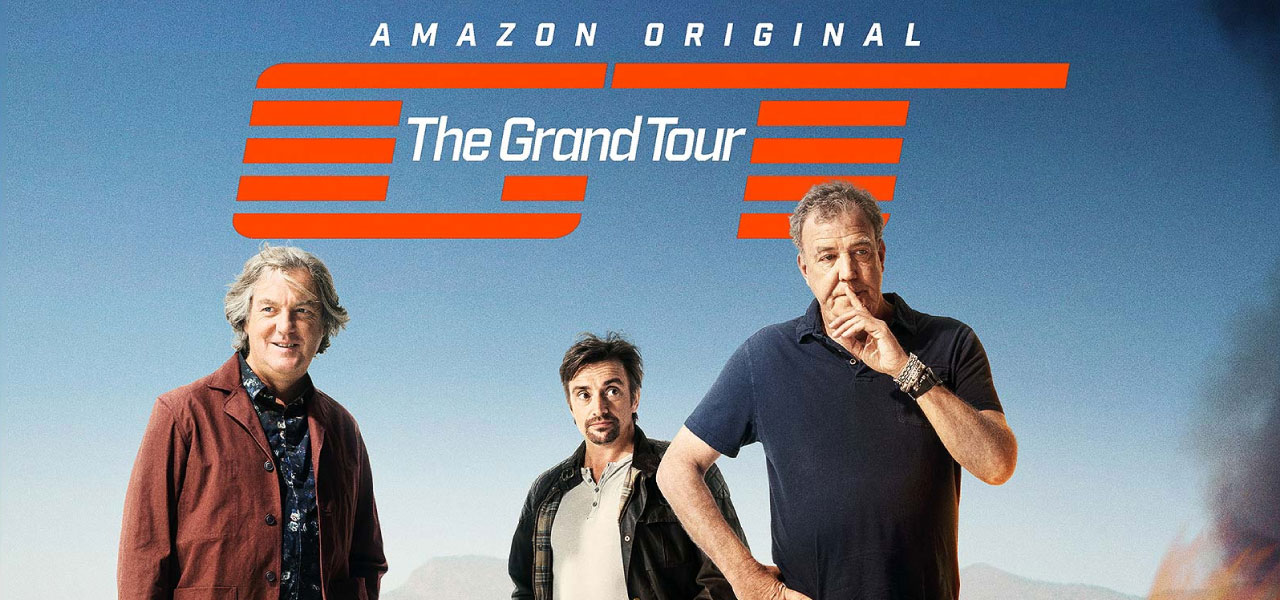 Last week was the premiere of The Grand Tour. And Amazon's most expensive TV experiment is about to become its most popular show. Clarkson, Hammond, and May are back to make a fun and accessible car show. It doesn't reinvent the late Top Gear, but rather refines it. However, The Grand Tour is only available in 5 selected countries. How to watch The Grand Tour if you're not in one of these? Start your engine!

Try ExpressVPN Now
Look no further, here's the best VPN!
Enjoy unlimited streaming and torrenting, anywhere in the world and protect your privacy online. With this exclusive offer, you can use ExpressVPN 30 days, risk-free!
Top Gear Amazon: Watch The Grand Tour online
Top Gear Amazon, or The Grand Tour, is here. The motoring presenters who were responsible for the success of Top Gear (BBC) namely Jeremy Clarkson, Richard Hammond and James May are finally back.
Top Gear was the most successful series ever by the BBC. But the BBC had no choice. They had to fire Jeremy Clarkson on the basis of misconduct against one of the producers. Richard Hammond and James May could have stayed. But the magic was gone. Once the trio was broken, the show was over.
The move from the BCC was brave, but disastrous for Top Gear. To date, the current presenters, among them our "friend" Matt LeBlanc didn't even manage to match the audience of the triumvirate.
When Clarkson was fired, Amazon took their chance and approached him to continue the show under a different name. In turn, he went to his former colleagues and The Grand Tour was born.
Despite the fact that Amazon didn't release the audience figures, they reported that the show last Friday was a huge success in the USA, Britain, Japan, Germany and Austria.
Try ExpressVPN Now
Save 49% + 3 Months FREE (Valid Until October 2023)
Amazon: How to watch Grand Tour?
If you don't know Amazon's service, you can compare it with Netflix. Indeed, they are both paying streaming websites. And they offer both geo-restricted content. It means that you can watch The Grand Tour online, but only in the countries cited above. Why? It has to do with TV rights. I guess they're still negotiating with the other markets.
The rest of the world must wait. How long? Fortunately, not long: Early December. But if you want to watch The Grand Tour online now, there is a solution.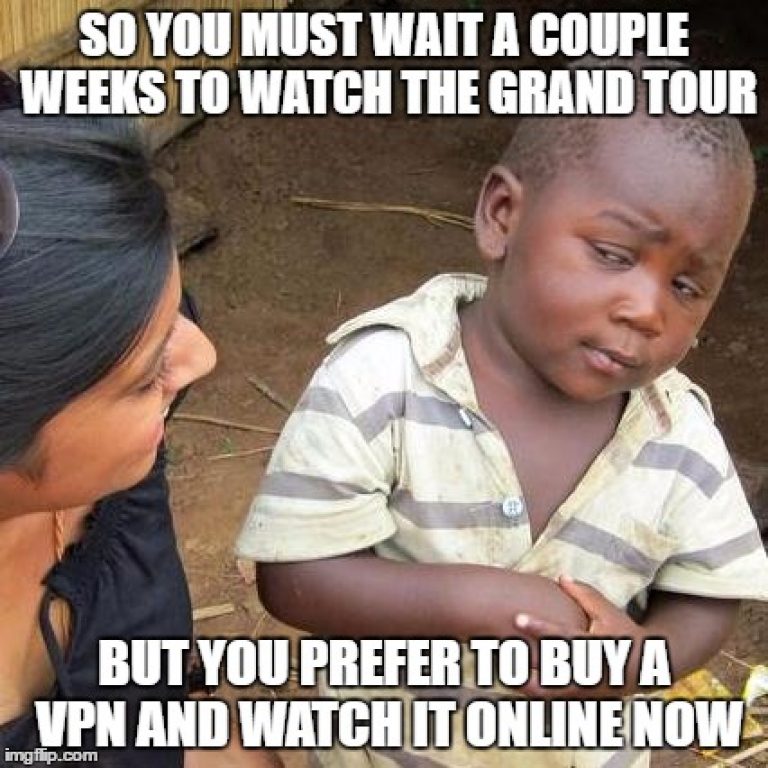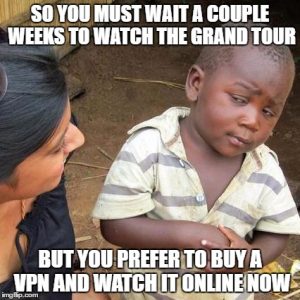 One of the simplest and most effective ways is to purchase a VPN. With a VPN software, you can emulate your position in another country. If the VPN provider has a server in the US, you'll have access to all the US content. You can unblock American Netflix or watch the Super Bowl for example. And this is true for all countries and their geo-restricted contents: Shows, sport events, movies…
This is a legal and safe way to bypass the geographic restrictions.
A VPN is an encrypted connection from point A to point B, also called end-to-end. It's a closed network you can access after you subscribe to the service.
At the origin, companies created VPNs to protect their communications and avoid the risk of data interception. Because of corporate espionage, it was forbidden to log onto the company's servers from away. VPN allowed a safe remote connection.
And most journalists use a VPN to bypass censorship in the countries they are sent to.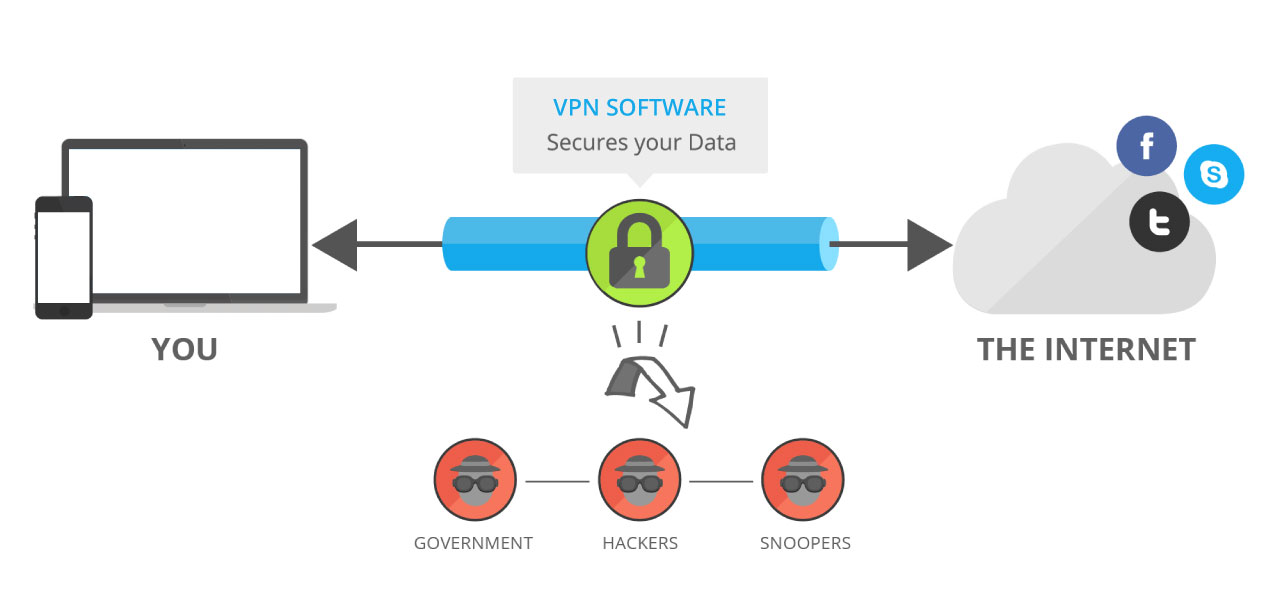 Sweet, but…
I know, you think you don't have a company's need in terms of security and privacy. But stop and think for a minute. With the War on Terror, many governments (including ours), want to know what we're up to on the Internet. They'd like to hear and read all our communications and find all our info on social media.
Furthermore, your data are not even safe with your Internet Service Provider. Really? Yes, your ISP can simply view all your data stream: See the websites you visit, read your emails, get your passwords etc.
Finally, we all love free WiFi. But are you safe on public networks? Nope. If you're unprotected, all your data can be intercepted. There can be a malicious software (malware) which attacks your phone or laptop. You never know who is the real owner of the network. And you could be connecting directly to a hacker's device.
Make yourself a gift: Avoid Big Brother and hackers with a VPN.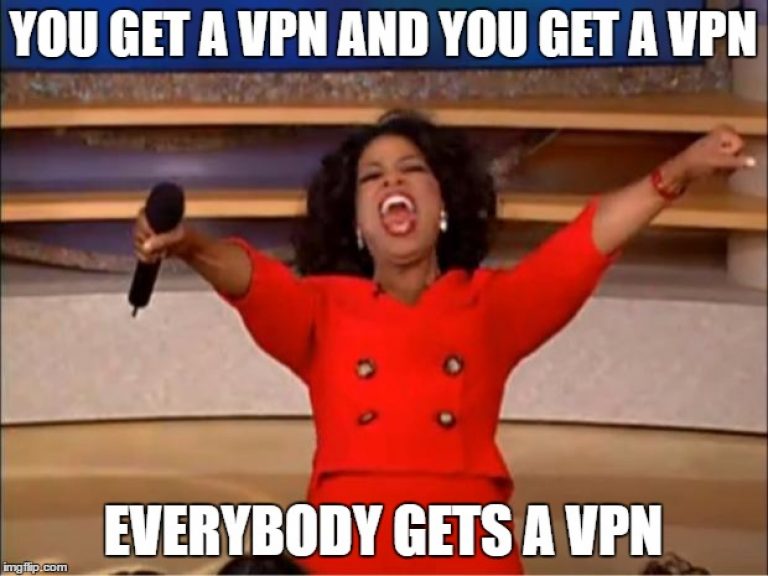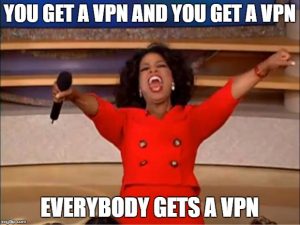 How much is a VPN?
A VPN is not free. Bummer. Even if there are free providers on the market, but nothing is free in this world… If you know what I mean. I highly recommend you NOT to use a free VPN software. You would do yourself more harm.
With a free VPN you don't know what they do when you sign in. They could collect your data and browsing habits for commercial purposes or worse. Then, free VPNs are not known for their unlimited data usage. This is not how to watch Grand Tour… Video streaming uses a lot of broadband and data. Therefore, you need a fast and unlimited VPN for that.
Now that you know it's not free and that you need a good VPN, what's the price tag? Well, you'll have to pay between £5 and £10 for a month. Because you can subscribe only for a month. Most VPN offer a money back guarantee, in case you're not satisfied with their service. You could even get a good VPN for free, just to watch the Grand Tour online.
Personally, I always recommend an annual subscription. Because you should browse the web protected at all time. And because you'll get about 50% discount on the monthly package…
Try ExpressVPN Now
Save 49% + 3 Months FREE (Valid Until October 2023)
The Grand Tour watch online now!
Now that I convinced you that a VPN is good for your e-health, let me show you how to watch Grand Tour. This is a step-by-step guide that should work with most VPN.
Select a VPN from the top 7 below
Click on the "WEBSITE" button
On the VPN website, create your account and select a subscription
Download, install, and launch the app
In the software, select a server in the USA, Britain, Japan, Germany or Austria
Click "Connect"
Get back to the website and refresh the page
Race is over! You can now enjoy the latest episodes of The Grand Tour online. And you're now surfing safe. Today was a good day.
My Top 7 VPN to watch Grand Tour online
This was my guide: How to watch The Grand Tour online? Stay tuned for more articles coming soon.