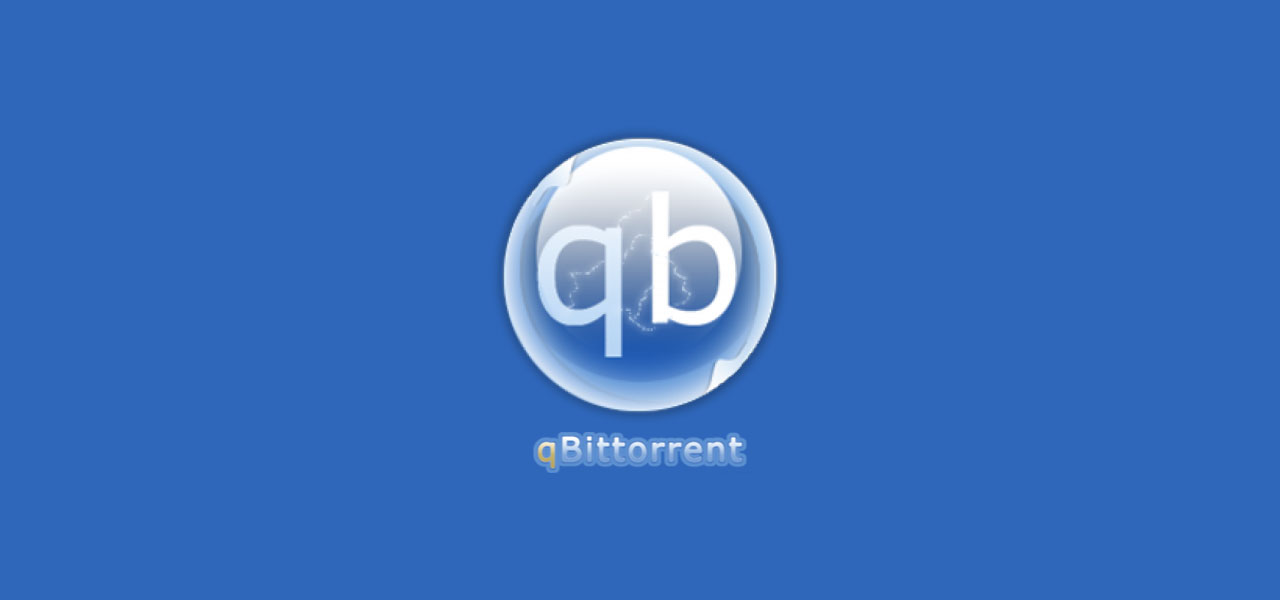 qBittorrent is an open-source BitTorrent client featuring an IP filtering system that's very popular in the torrent community. It is based on the libtorrent-rasterbar and Qt toolkit. In addition to being very lightweight and clean, it offers the possibility to download using an encrypted connection. Indeed, you can force all your torrent data to use your VPN connection. And if this reason was not enough for you to adopt it, this software is devoid of ads and other malware. Let's review qBittorrent in details now.
Try ExpressVPN Now
Look no further, here's the best VPN!
Enjoy unlimited streaming and torrenting, anywhere in the world and protect your privacy online. With this exclusive offer, you can use ExpressVPN 30 days, risk-free!
Combine qBittorrent and VPN for anonymous torrenting
In a previous article, I explained how to download anonymously. And today I'll show you how to setup qBittorrent to be safe while downloading popular torrents. Because this torrent client offers a nice feature which allows you to use only one given connection. And in our case, your VPN connection. Whether that be a dedicated qBittorrent VPN, qBittorrent NordVPN, qBittorrent ExpressVPN or some sort of qBitorrent hide IP service.
It's important to know that qBittorent is a tool originally designed for peer to peer exchange (P2P). This way, the tool in itself is completely legal. However, it can be illegal to download certain types of content depending on the laws applicable to your country. One of the many reasons that it rose to popularity was its built-in torrent search engine. Enabling simultaneous search made the job so much easier for people searching for specific content. The qBittorrent software has the ability to, firstly, go through a vast amount of Torrent search sites, while doing category-specific search requests.
While this might sound complicated, it's not. The user interfaces are easy to navigate and might seem rather familiar if you have experience with µTorrent.
Try ExpressVPN Now
Save 49% + 3 Months FREE (Valid Until December 2023)
Prerequisites to use a VPN with qBittorent
Subscribe and install a VPN software
First of all, you're going to need a good VPN for torrenting (something such as qBittorrent NordVPN or qBittorrent ExpressVPN). Indeed, there are other qBittorrent hide IP services, but nevertheless, before attempting any activity, you should secure your connection. Because you could give hints of your activity while downloading a torrent client or visiting a torrent website!
Therefore, you'll have to subscribe to a VPN service (or a qBittorrent hide IP service). And if you don't know what provider to choose, pick one in the list below. Because I recommend these for downloading torrents. They're fast, torrent-friendly and have a strict no-logging policy.
Obviously, once you have installed a VPN client or some sort of qBittorrent hide IP related client on your device, you have to launch it and connect. Because you'd better connect to your VPN at the startup of your device anyway. Indeed, the Internet is wonderful but full of dangers as well. And then you can safely proceed to the next step!
Download and install qBittorrent

qBittorrent
The qBittorrent project aims to provide an open-source software alternative to µTorrent. And it's developed by volunteers on their spare time.
In order to download qBittorrent, visit their website. And click on Download in the menu to reach the download page. qBittorrent runs on all major platforms (Linux, Mac OS X, Windows, OS/2, FreeBSD). And it runs the BitTorrent protocol a peer to peer file sharing protocol.
Pro tip from Wade
If possible, install qBittorrent on the same drive you'll use to download the torrent files.

Find a torrent tracker
While there are hundreds of torrent trackers on the web, that you can easily find with your favourite search engine, not all are safe. Indeed, you could be downloading 4 GB of extreme adult content instead of the last Disney movie… Therefore, check each file before playing in front of an audience!
So, here are my three favourite trackers and the most popular torrent sites to find content:
| #1 | #2 | #3 |
| --- | --- | --- |
| | | |
| katcr.to | extratorrent.cc | thepiratebay.org |
| Kickass is BACK!!! There you should find the files you're looking for. And there are generally enough seeders not to spend the night on a download. Also you'll appreciate the clear and complete presentation of the torrents and the very active community on the forum. | ExtraTorrent is one of the biggest Bittorent index. And it's a direct competitor of Kickass Torrent. The website is simplicity and precise. And it seems as though everything had been thought out. Therefore you'll go straight to the essential: the torrents. | The Pirate Bay has become so famous that even those who do not download torrents have heard of it. Indeed, this site made headlines in the media because of the game of hide and seek that it plays with the governments of the world. And it's still a good source to find torrents! |
TPB is the oldest torrent tracker. Pirate Bay and Kickass torrents are the largest torrent sites. And they're the best alternatives to ExtraTorrent. You can find almost anything: Music, movies TV shows, etc.
Try ExpressVPN Now
Save 49% + 3 Months FREE (Valid Until December 2023)
Configure qBittorrent to download anonymously
While I'll focus on qBittorrent in this article, you can read about the VPN privacy settings in the article I mentioned above. Indeed, most VPN need a few tweaks to guarantee the best protection: Kill switch and DNS leak protection for example.
Now that you've installed everything you need, let's see how to optimize qBittorrent settings to protect your privacy. Indeed, if you start downloading torrents now, your torrent client may still use your ISP DNS server. And you could be the victim of a DNS leak. Therefore your real IP address could be in the clear…
First of all, you need to find the option in the client. Therefore you need to click on Tools and then Options. And you'll get a pop-up window with seven tabs where you can change all settings. Since not all tabs are relevant for this topic, I'll only mention the ones where you need to enable/disable an option.
Connection tab
First of all, you need to set two things on the Connection tab, in these two sections:
Listening Port: This is the port through which qBittorrent listen for peer connection.

Port number = By default, it's 8999. But you can choose any or click on random
Use uPnp/NAT PMP = If checked, it will automatically forward the port through your router. But you don't really need it with a VPN. So you can uncheck this box.
Use different port on each startup = By default, it's unchecked. So you can leave it like this.

Connections Limit: These are the settings related to the number of peers for upload and download.

Global maximum number of connections = I recommend you to set the value to 1250.
Maximum number of connections per torrent = I recommend you to set the value to 250.
So the optimal settings look like this:
BitTorrent tab
Also in the BitTorrent tab, there's one thing to do. Indeed, you can uncheck Torrent Queuing to remove the limits on the number of torrents being downloaded and uploaded.
Furthermore, you can change the Encryption mode to Require encryption. As a result, qBittorrent will only connect to encrypted peers. While this feature encrypts 100% of your torrent activity, you'll get access to fewer peers. Because most people don't enable encryption.
So the optimal settings look like this:
Advanced tab
The Advanced tab is where you can limit the torrent client to use a given network connection. And in our case, a VPN connection. Indeed, in qBittorrent you can select a single Network Interface. And when you install a VPN software it generally creates the corresponding network interface.
However, you'll need to know which network adapter to select. Because it's very likely the names of the adapters are Local Area Connection or Ethernet 2, Ethernet 3 etc. Therefore, you need to open Network Connections in Windows. And then check which is the adapter of your VPN – You can rename it for ease of use. In this example, I'll use ExpressVPN.
Then go back to qBittorrent Advanced tab and select the correct Network Interface. And restart the client.
And this option adds an extra layer of security, in case your VPN or qBittorrent hide IP client doesn't have a kill switch. Indeed, if the VPN connection drops, then all your torrents stop. Because it's only using the network adapter that's not connected anymore. Though I believe the following qBittorrent VPN clients have some sort of kill switch: qBittorrent NordVPN and qBittorrent ExpressVPN.
Try ExpressVPN Now
Save 49% + 3 Months FREE (Valid Until December 2023)
Verify your IP's not leaking
Now you're all done. But can you really download torrents anonymously with qBittorrent and a VPN? Even though you have your qBittorrent VPN, you can run some tests before downloading. This is a good way to test your qBittorrent hide IP client, though you shouldn't have the problems with qBittorrent NordVPN or qBittorrent ExpressVPN. Indeed, just visit IPLeak. And you'll have the results for the first two tests:
If you can see your real IP address and/or the address of your ISP, you have a DNS leak. So check your VPN client for DNS leak protection. However, not having a DNS leak on web browsing (the HTTP protocol) is not enough.
Indeed, you need to make sure your torrent client is leak proof. Scroll down to Torrent Address detection to test if your torrent client is leaking your real IP address. Follow the on-screen instructions and wait for the results to appear.
Once again, if you see your real IP address and/or the address of your ISP, you have a DNS leak… So, make sure your VPN is set up correctly. And contact your VPN provider if you can't get it right. Because it may be a problem with their network.
How to download torrents with qBittorrent?
While I could download any content, today I'll download Ubuntu 16.10 Desktop (64-bit) from the official website. Indeed, it doesn't matter what kind of content you want to download. Because everything works the same.
Therefore, right-click on the torrent link and click on Copy link address (or similar, depending on your browser). And it works the same with magnet links.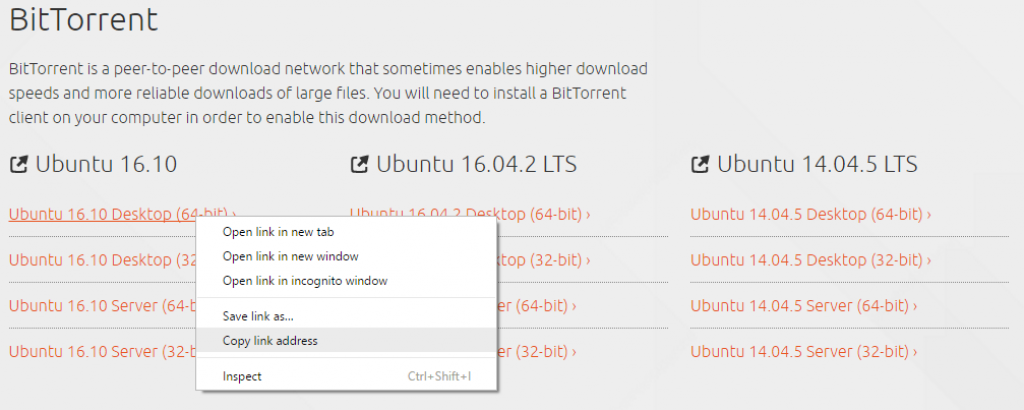 And then back to the client, where you have to add the torrent link. Seems like qBittorrent know their users. Because it's very easy to do so. Indeed, just click the first icon on the left side of the client. And a pop up should appear, with your copied link already pasted there.
And then click Download and select the folder where you want to save your file. That's it, the torrent starts downloading automatically. And on the interface, you can get all the statistics and the ETA.
Using a VPN with this torrent client is the best way to avoid copyright infringement and its consequences. Consider using qBittorrent VPN clients such as qBittorrent NordVPN, qBittorrent ExpressVPN if you don't already have a dedicated qBittorrent hide IP service or client.
qBittorrent review: Excellent
qBittorrent is the best torrent client I reviewed. And it can easily replace µTorrent. It's lightweight and easy to set up to achieve anonymous torrenting.
---
PROS
Fully loaded
Lightweight
Fast
User friendly
Available on most platforms
CONS
Perfectible search function
Limited encrypted peers