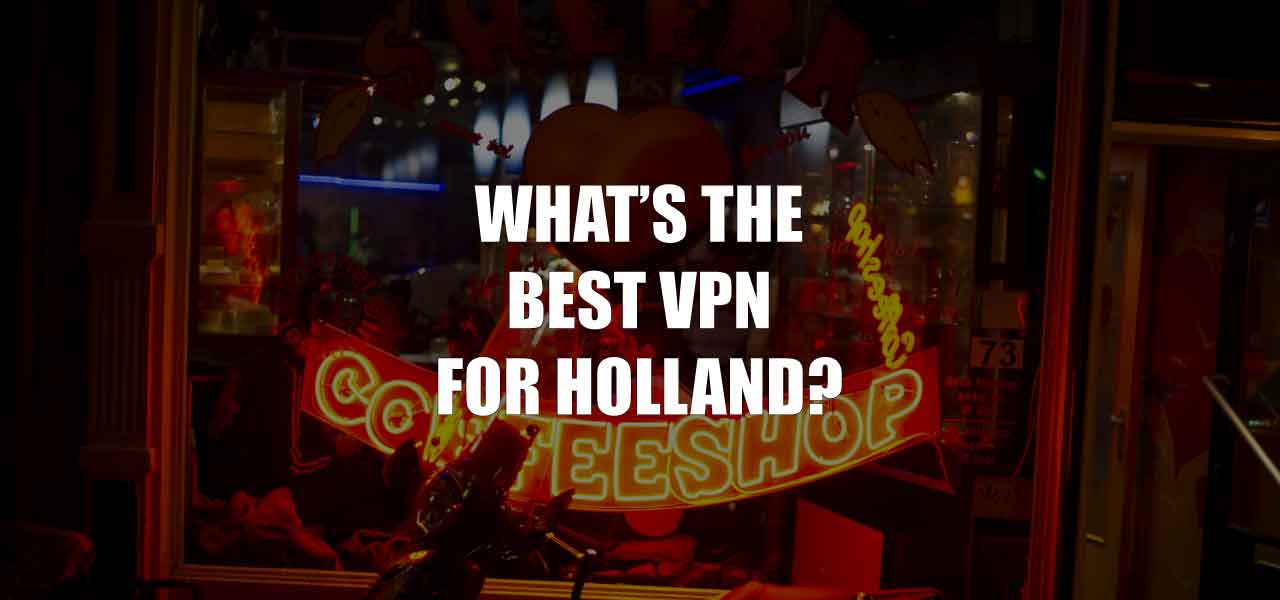 If you want to live somewhere homey, peaceful, and picturesque, the Netherlands is the perfect place to do so. The architecture, history, and culture are rich and wonderful. Also, there are coffee shops and red light districts. It's no wonder that hordes of tourists visit it every year. But where there's the internet, there are also cybercriminals no matter where you go. No need to worry, though, because we have selected the best Holland and Netherlands VPN so you can browse privately and keep your online activities safe.
Try ExpressVPN Now
Look no further, here's the best VPN!
Enjoy unlimited streaming and torrenting, anywhere in the world and protect your privacy online. With this exclusive offer, you can use ExpressVPN 30 days, risk-free!
Here are the best Netherlands VPN in 2023
From the Best VPNs for Netherland list above, you can tell that there's a lot of excellent VPNs available on the market. Here's what I've picked as my favourites and would like to share you the summaries:
ExpressVPN
Another user favourite that is a suitable Netherlands VPN is ExpressVPN. If you're new to using a VPN service, you'll find this easy to use because of its simple and clean interface. Their customer service is also superb and extremely helpful in case you're having problems with your connection.
Features:
VPN split-tunneling. This feature works by routing your internet traffic through two tunnels: an encrypted tunnel through the VPN and a direct connection to the internet using a local IP address. You can select a few devices or applications that you want to protect with a VPN while still being able to access local web services.
Private DNS. Unlike other VPN services, ExpressVPN has its own private DNS. This means that they don't use third-party DNS which are not encrypted by the VPN. Their encryption runs its own DNS so you're less prone to attacks.
Built-in Speed Test. With the Speed Test, you can see which servers have the fastest connections so you can choose the best one. Connecting to a VPN Holland is already fast enough but the Speed Test will show you faster server locations. You can steer clear of slow content loading and check download capacity as well using this feature.
No connection logs. Fortunately, ExpressVPN is a Netherlands VPN service that doesn't keep logs of your information such as IP address, browsing history, traffic destination, and DNS queries. The only data they collect are the apps that are successfully updated, dates of VPN connection, server location, and amount of data transferred.
VyprVPN
Many websites restrict access to users with an IP address located in Holland or the Netherlands. VyprVPN is a Netherlands VPN and a free Dutch VPN that bypasses IP blocking so expats based in the Netherlands can view any content that they want. It also gives you ultimate privacy and security from government spying and cybercriminals.
VyprVPN
VyprVPN is the VPN of a Swiss company, which promotes privacy, security and access to a free and open Internet. It's one of my favorites, because I share their view about Internet. And because their service is the best against censorship, thanks to proprietary DNS and a patented connection protocol. Besides, a NAT firewall is included.
Features:
NAT firewall. If you're connecting to the internet using a wireless router, the NAT firewall is an amazing extra layer of security. It blocks unrequested inbound traffic, which could gain access to your devices through opened applications. Best of all, there's no need to install additional software since it runs in VyprVPN's servers.
200,000+ IP addresses. Worrying about downtime? VyprVPN has over 200,000 IP addresses in over 700 server locations. Server unavailability is never a problem because they have dynamic IP addresses. You can also switch servers as much as you like.
24/7 customer support. VyprVPN is a great VPN Nederland for expats because they are able to help you with connection problems no matter what your timezone is. Their website offers troubleshooting articles as well as a live chat. You can also send them support tickets through email.
NordVPN
When it comes to encrypting your online activities, NordVPN is guaranteed to be a robust VPN service that is perfect for expats. This VPN Nederland, as locals call it, allows you to unblock websites that are banned in the country through a secure "tunnel", preventing hackers and viruses from harming your computer.
NordVPN
NordVPN has been on the market only a few years. But it's growing fast lately. The VPN is provided by a company in Panama, where there are no data retention laws. They promote an Internet without censorship or surveillance. So with them it's all about privacy. But they know what we want too: A high speed and a strict no log policy.
Features:
Military-grade encryption. Stay secure with NordVPN's 256-bit AES encryption, the same one that banks use, as well as IKEv2/IPsec and OpenVPN technologies. It might sound really complex, but all you need to know is these technologies will protect you from hackers, malware, annoying ads, and unsecured public Wi-Fi.
5,000+ servers in 62 countries. NordVPN is perfect for expats who travel a lot because it has over 5,000 servers located in 62 different countries. So whether you're working in the Netherlands, traveling to America, or vacationing in Asia, you can access any website anywhere. It's also the best VPN Holland for those that are based there.
P2P file sharing. Some VPNs don't allow peer-to-peer file sharing, but NordVPN does. It's perfect for downloading free-access files and sharing corporate data through a secure connection. And you don't have to worry about internet speed because they offer lightning-fast connections, too.
6 simultaneous connections. This Netherlands VPN has a good number of simultaneous connections compared to its competitors. You can protect your laptops, smartphones, tablets, and even smart TVs.
30-day money back guarantee. Want to try NordVPN for free? They offer a 30-day money back guarantee so you can experience a free VPN Netherlands before fully committing.
IPVanish
This VPN Nederland has received many good reviews over the years because of its features. Like its competitors, it has strong encryption, great download speeds, no logging policy, and P2P file sharing. You can also try this out as a free VPN Netherlands as they offer a 7-day money back guarantee.
IPVanish
IPVanish has been in the VPN market for over 15 years now. It's widely renown for its extreme secure connection (NAT Firewall included in all packages), its high speed (most gamers choose this VPN to play online), and its simplicity of use.
Features:
SOCKS5 web proxy. Aside from its security protocol, IPVanish also offers SOCKS5 web proxy to its customers. It works by masking your IP address while making P2P or VoIP connections without having to download third-party software. However, it's not encrypted and doesn't have the same security as a VPN.
40,000+ IP addresses. It's impossible to trace your device whenever you use IPVanish because they have over 40,000 shared IP addresses. There are also 1,000+ VPN server locations in over 60 countries.  This feature is why it is one of the most recommended VPN Holland for expats in the Netherlands.
10 simultaneous connections. IPVanish has the most number of simultaneous connections among the Netherlands VPN services mentioned here. You can protect your devices at home, in the office, and even include your family's devices as well. It's a good value for its price, and although it's a bit pricey, its features make it worth it.
7-day money back guarantee. Subscribing for a year seems like a huge commitment for a software that you haven't tried yet while subscribing for only a month will cost a lot. Good thing IPVanish offers a 7-day money back guarantee so you can try out this free VPN Netherlands for a week then see if it fits your needs.
Conclusion
In one word: You should use a Netherlands VPN. Because you'll be spending time online during your trip, for sure. And Big Brothers (not the reality show) are watching and tracking you everywhere these days. It doesn't matter what country you are staying in: Mass surveillance doesn't care about boundaries. And snoopers start spying on you and collecting your data as soon as you go online. I remind you that privacy is a right and you have to fight for it, or you'll lose it.
And what about streaming or torrenting movies, series, etc.? Because you'll have some free time in your hotel room. That's when a VPN comes in handy. Indeed, it can unblock Netflix, Hulu, Amazon Prime, and all the other platforms. You can watch all the geo-restricted with the best VPN of the market. And you can share files via P2P and torrent in an anonymous way – the best way, where copyright trolls can't catch you.
Try ExpressVPN Now
Save 49% + 3 Months FREE (Valid Until December 2023)
All of this is possible thanks to a VPN for Holland. Because it hides your IP address and it gives you a new IP, one that you share with hundreds of users.
If you're still not sure which VPN to choose, go for my number 1: ExpressVPN. And you won't be disappointed.