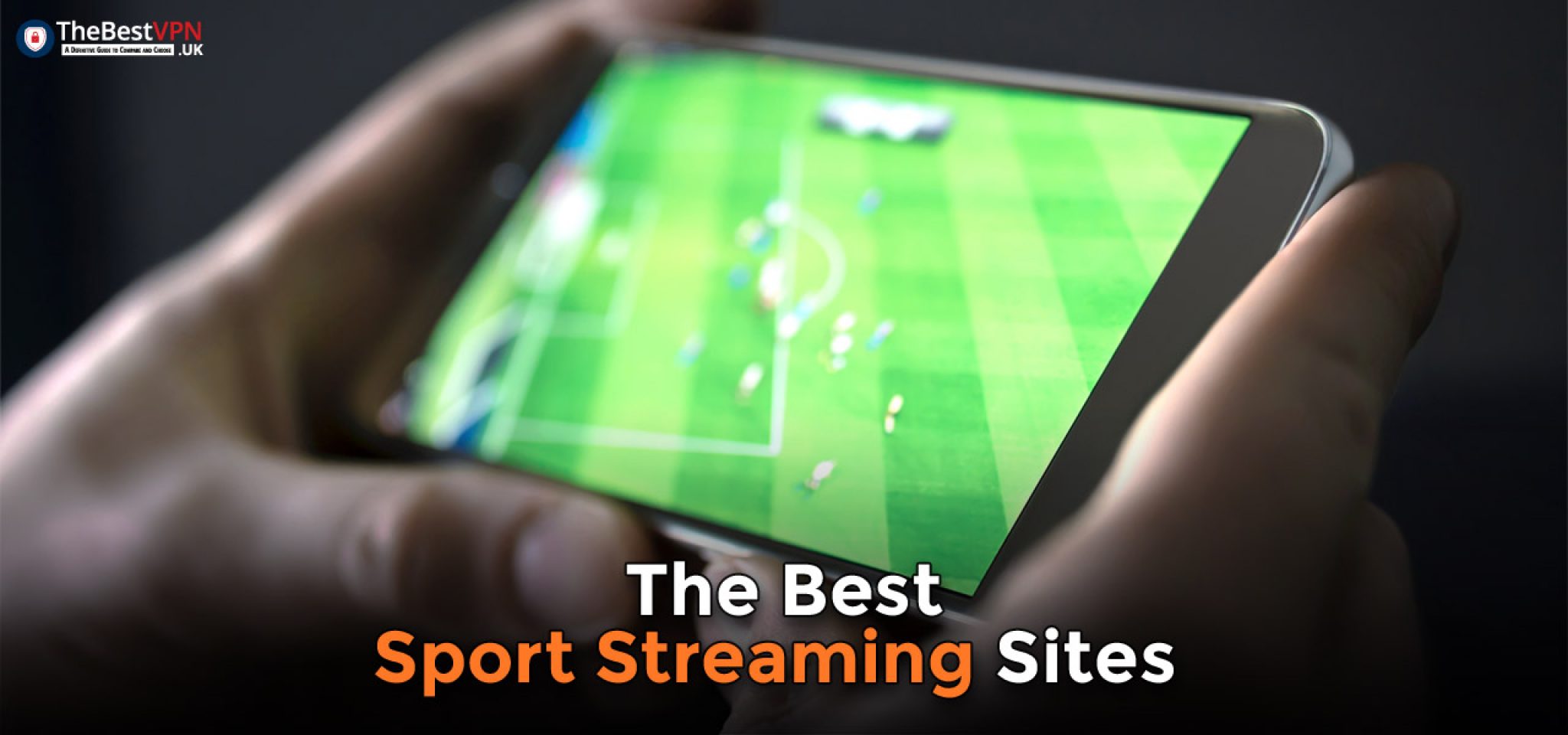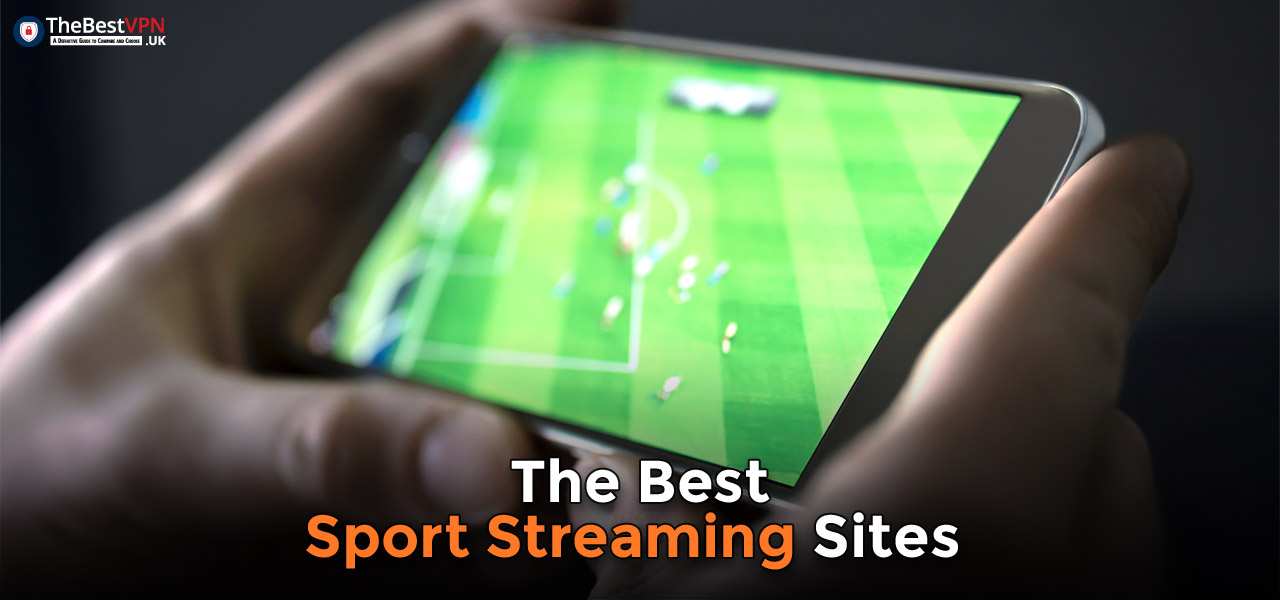 If you're an avid sports fan, 2020 will no doubt have been a massive let down. With the UK in lockdown for months, professional and semi-pro sporting events have been behind closed doors, with the at-home fans having to pay a fortune to watch their team play.
Fortunately, there are a tonne of free sports streaming sites that will help you find a high-quality, streaming link of your favourite games. Whether you're looking for live events, or just want to watch the highlights reel from a game you've missed, free sport streaming sites are just what you need.
Today we'll be discussing the top 10 free sports streaming sites, as well as the best VPNs to use with them.
Try ExpressVPN Now
Look no further, here's the best VPN!
Enjoy unlimited streaming and torrenting, anywhere in the world and protect your privacy online. With this exclusive offer, you can use ExpressVPN 30 days, risk-free!
10 Best Free Sport Streaming Sites
To start, we've collated a list of the top 10 free live sports streaming websites you can use for free.
1. Stream 2 Watch – the most popular sport streaming site
Stream2Watch isn't just for sports fans, but their offering of sports channels is  highly impressive. You can watch everything from boxing to basketball on almost any device. The website's interface is easy to navigate and isn't full of widgets and links clogging up the front page. If you're not sure what to watch, you can check the latest events and start times to find something you like.
2. SportRAR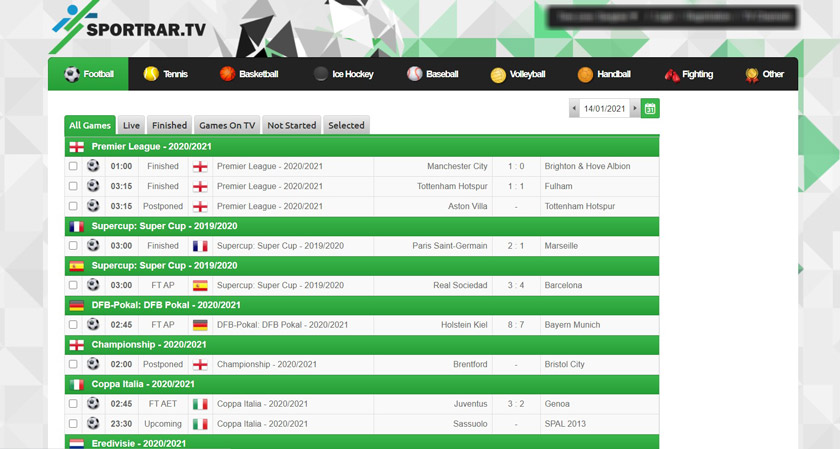 SportRAR is another of the best live streaming sites around. Everything from major sports like basketball and tennis, to hockey and golf is streamed on the platform. It's easy to use and the homepage is filled with links of live events you can jump into. It's also completely free.
3. WatchESPN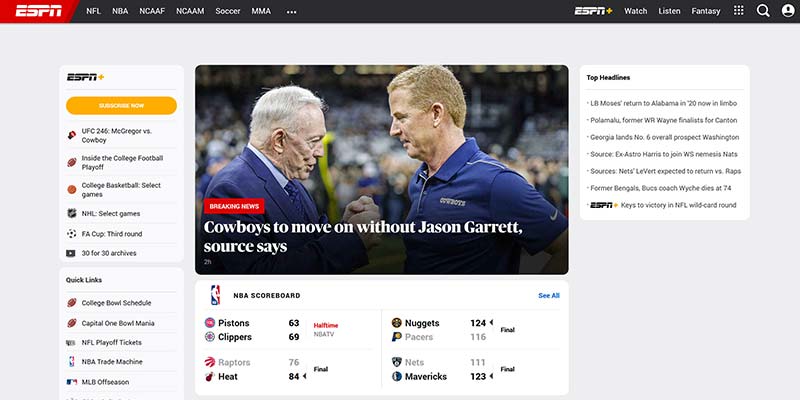 No 'best sport streaming sites' list is complete without mentioning ESPN.
This mega giant is one of the biggest names in sports coverage. Their dedicated streaming platform, WatchESPN, will give you everything you need for a daily sports fix, and more. With such a high profile, WatchESPN gives you access to free live sports streaming, recordings, commentaries and even favourited channels like SportsNation or PTI.
WatchESPN is available on a huge number of devices. You'll be able to get a slice of the sports action no matter where you are. Mobile, tablet, laptop and even Xbox works with this streaming service.
4. StreamWoop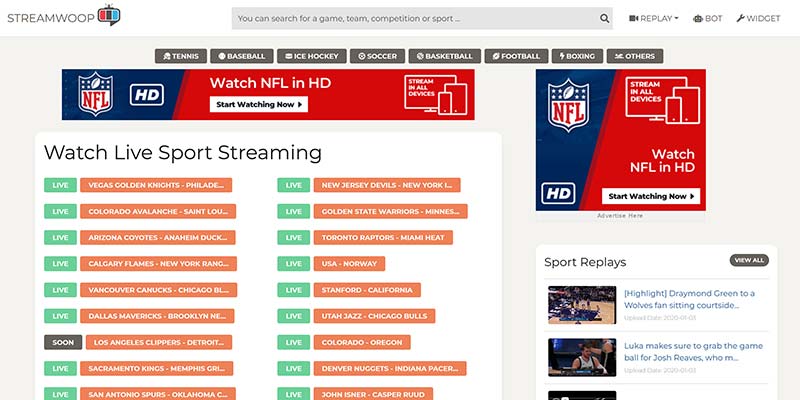 StreamWoop is another of the biggest free live streaming sites on the web. In fact, it claims to be the biggest. StreamWoop provides its users with free links to different sports streams from some of the most trusted providers: BT, Fox, Sky, the list goes on. The platform doesn't own the content, but provides links to those that do. It's basically an indexing website that's really helpful for sports fanatics!
There's plenty to watch, too; highlights, commentaries and free live sports streaming are all included.
5. SportLemon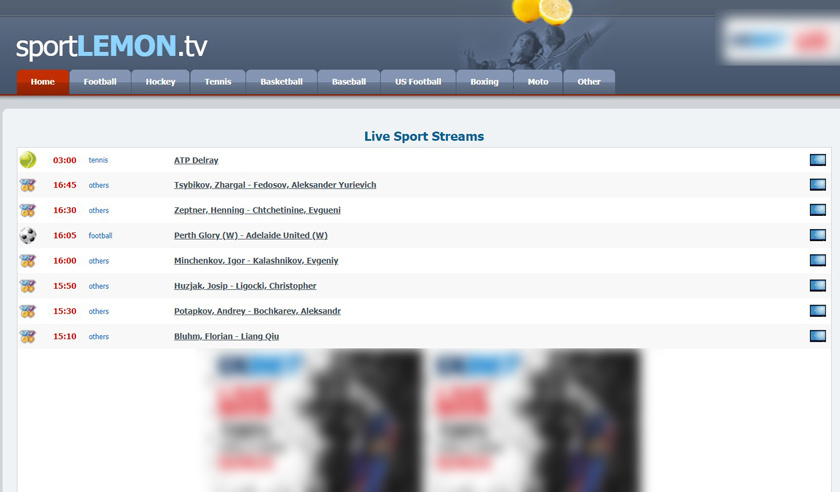 SportLemon is another one of the fastest and safest live sports streaming sites, and even has built-in HD effects. The free to use website is pretty similar to other top contenders in our list, giving you an easy-to-use space to watch all your favourite games from NASCAR, cricket and tennis.
6. LiveTV.SX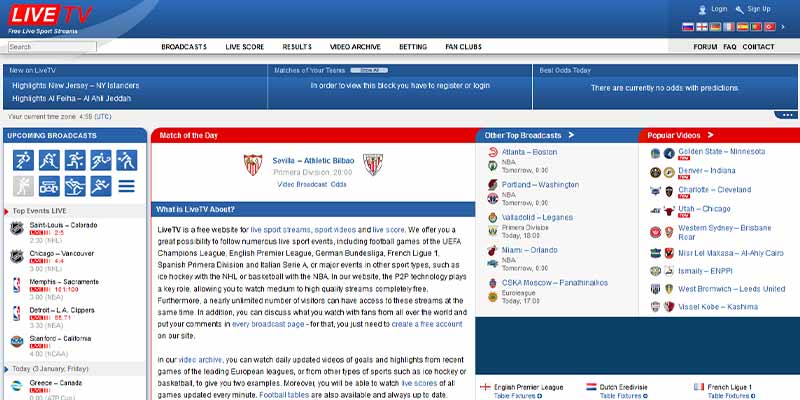 LiveTV offers free live sports streaming and highlights. This one does contain a few ads and pop-ups, but an Ad Blocker should help you manage that. The platform is majorly focused on football and soccer, but there are also options to watch basketball and hockey on LiveTV too.
7. Laola.1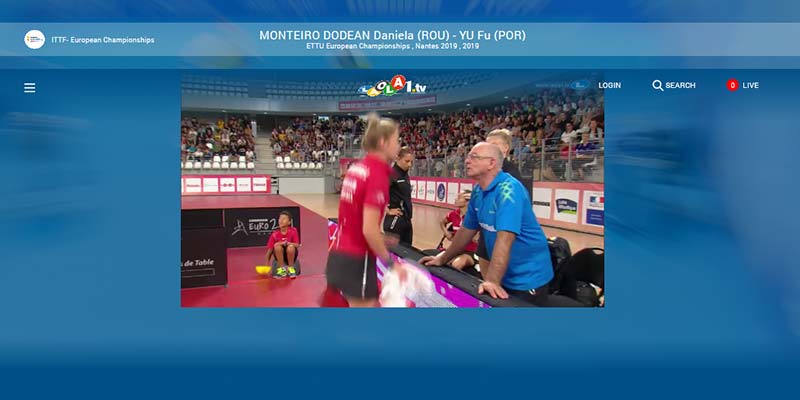 Laola.1 is one of the best sports streaming sites in the world. This leading sports stream provider offers both live and recorded sports events for you to enjoy. There's something for every sports fan, too, no matter how niche your interests are.
The videos are high quality, and the website's interface makes finding the right stream a total breeze. Laola has partnerships with several sports giants, so you know the streaming is great quality and coming from a trusted source.
You can use Laola on phone, laptop or tablet.
8. CricFree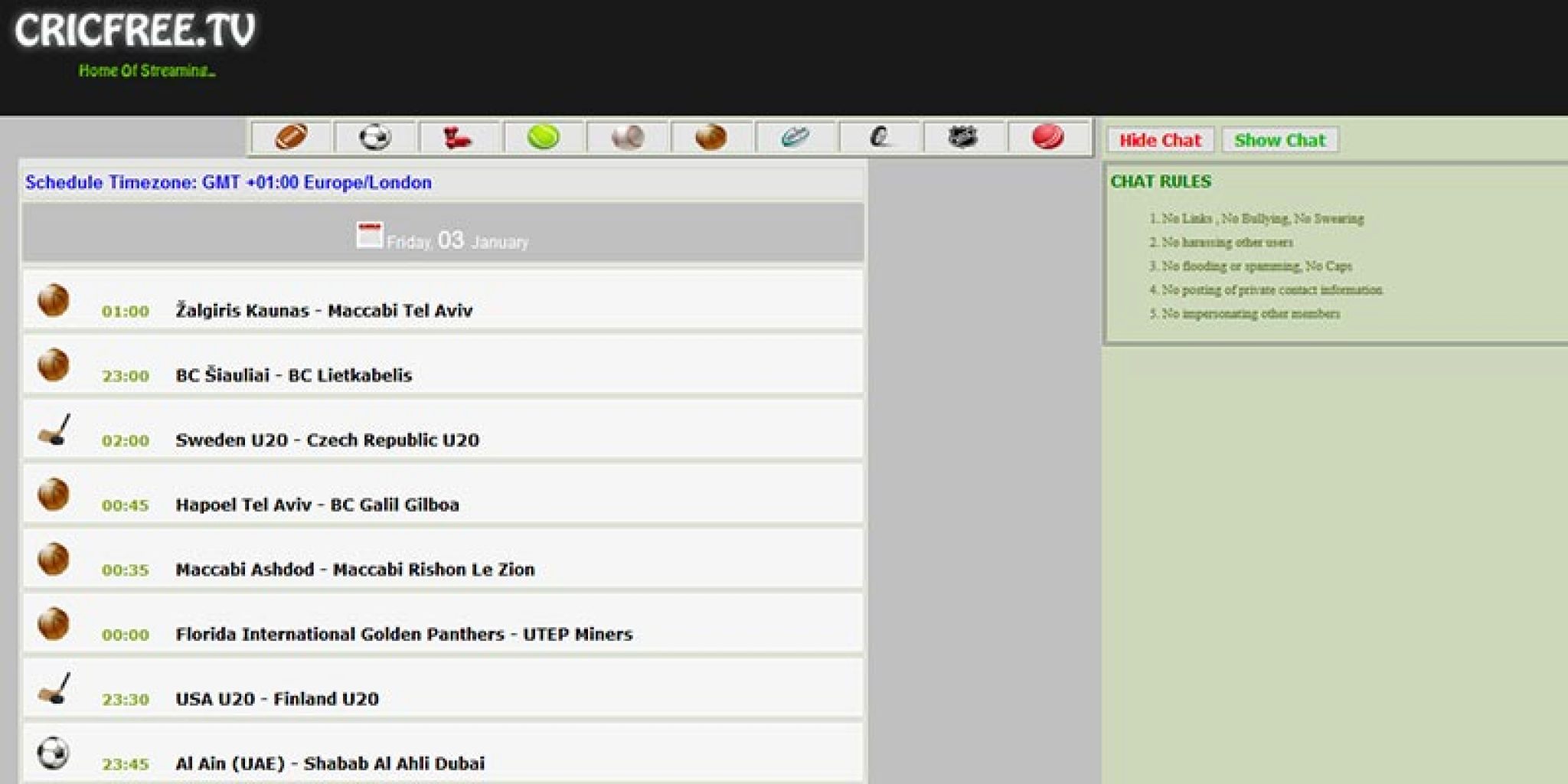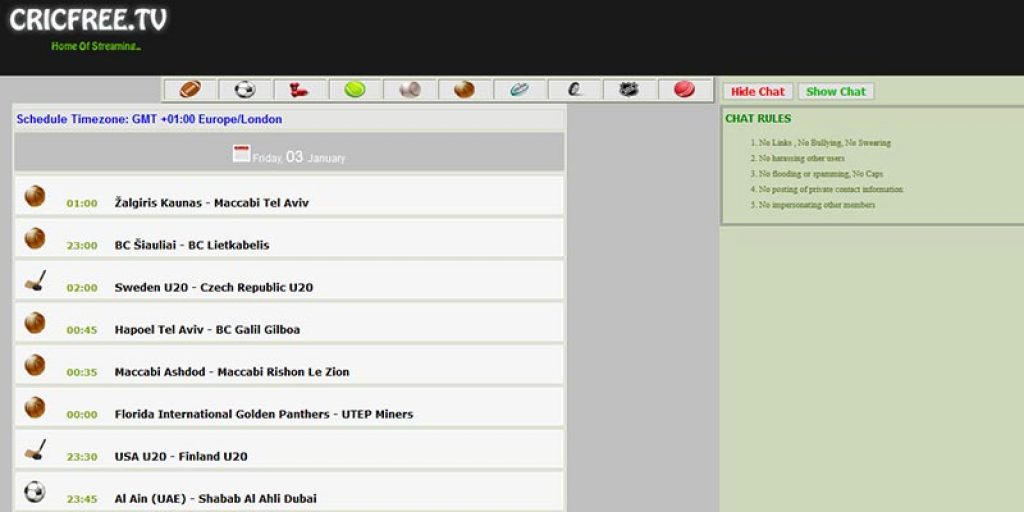 As the name suggests, CricFree is one the best free sport streaming sites for cricket fans, but there are quite a lot of pop-ups. The site also offers other sports too, so you can still watch the likes of football, basketball and more without having to pay a penny.
9. VIP Box – Sport streaming with a difference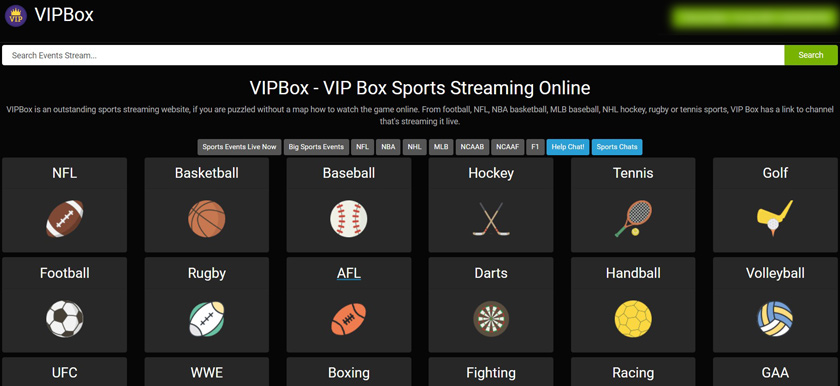 There's no hassle with VIPBox: No sign up, no subscription, no fees. This platform is one of the best free sports streaming sites thanks to its cool, integrated chatbox. Sports fans can chat to millions of other viewers during live streams and build up a great community. This is perfect for anyone who can't attend a game in person to still get a familiar atmosphere.
10. VIP League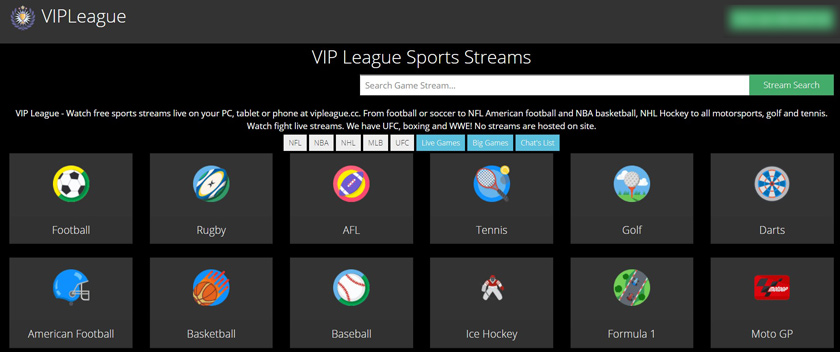 Among the top free sports streaming sites is VIP League. This site is good for high quality streaming for UFC, WWE, American football, rugby – absolutely everything! You'll likely bump into a few pop ups or ads, but this is easily cancelled out by the ability to watch your favourite teams play the game you love.
Potential problems with free sport streaming sites
Like anything in life, free live sports streaming comes with a few issues. But, the good news is they're pretty easy to overcome. Free sports streaming sites need to make money from something, so you are likely to be advertised to while you're searching for a stream to watch. Pop-ups and ads are one the biggest pet peeves for people using free sport streaming sites, as they can be highly irritating and distracting.
There are some that are better than others, but you will probably experience some kind of advertising on any site for free live sports streaming. You can manage the number of ads and pop-ups you receive by downloading a simple ad blocker. This software attaches to your browser and can be switched on and off. When on, you'll notice there's no ads, or at least fewer ads while you're watching things online.
The second issue with watching events on free sport streaming sites is that not all the content will be available in your country. Free sports streaming sites are actually more like an index page, rather than a streaming service. Which means the content they're providing you with isn't owned by them. Usually, the content is owned by people like Sky, BT or sport specialists like ESPN and CNN. Therefore, if the channel isn't available in your country, there will likely be geo-restrictions on the content.
Luckily, we have a quick solution to this little problem too. For unrestricted, free live sports streaming, use a VPN.
Try A Free VPN Today
Amongst our favourite VPNs for accessing free sports streaming sites is ExpressVPN. This particular provider offers new customers a 30 day money back guarantee, which is essentially the same as a month long free trial. ExpressVPN has servers across the world, so you can basically guarantee they'll have access to restricted content from all the top free sports streaming sites. And, if you're not happy with their services, they'll give you a full refund within 30 days of you setting up.
Try ExpressVPN Now
Save 49% + 3 Months FREE (Valid Until June 2023)
Best VPNs for sport streaming
If you want to access free sport streaming sites that aren't available to watch in your country, you can bypass any geo-restrictions using a VPN. It's important however, to make sure you're using a safe and secure VPN, so that your personal data and internet activity is protected. A VPN encrypts your data, while also hiding your IP address so that servers cannot located where you're based. That means, they can't block your computer from country-restricted content.
Below, we've provided you a list with some of the best VPNs for using when watching free live sports streaming online.
Ready, Set, Go
So, this post should have provided you with the top free sport streaming sites that we recommend, as well as the best VPNs to use with them. Now its your turn to find out which are your favourites, and get streaming all your favourite events.