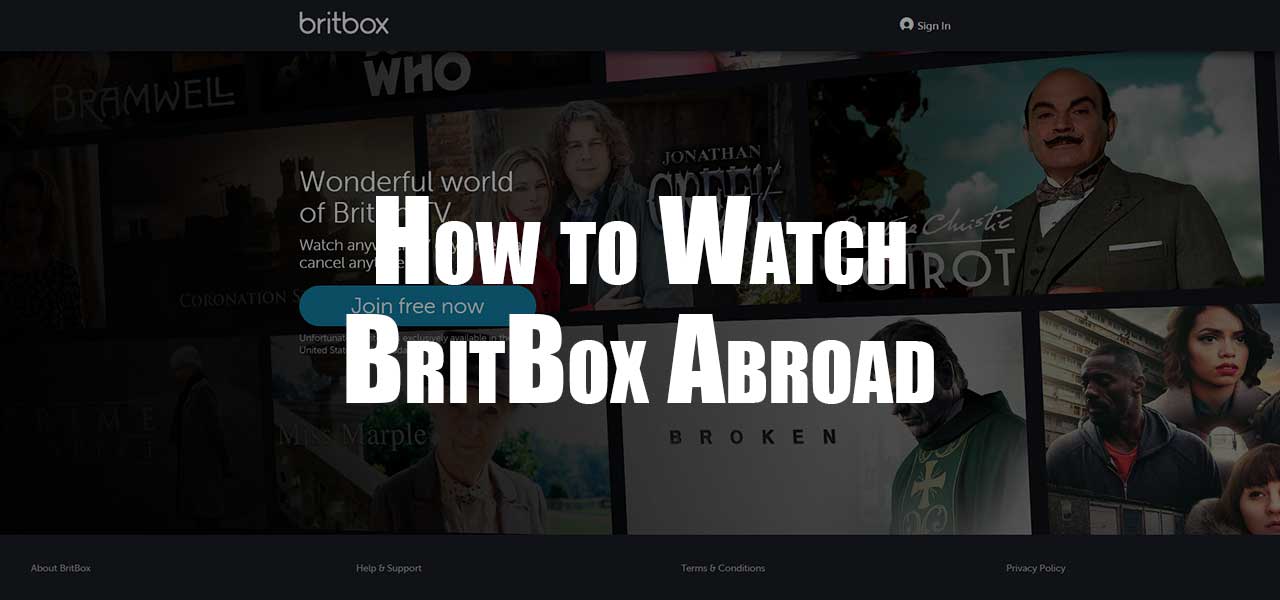 If you haven't already heard, there's a new streaming platform available very soon to us in the UK. Ladies and gentlemen, allow me to present to you, Britbox. This new service could be just about everything you've ever wanted and more. Learn how to use it anywhere in the world safely with a Britbox VPN.
Try ExpressVPN Now
Look no further, here's the best VPN!
Enjoy unlimited streaming and torrenting, anywhere in the world and protect your privacy online. With this exclusive offer, you can use ExpressVPN 30 days, risk-free!
What's the deal with Britbox TV?
This new movie streaming platform is the product fo a genius collaboration between our very own BBC and ITV. It was announced last Friday that they would be launching this service sometime at the end of the year.
And of course, we can expect to see some of ITV and BBC's shows available on it as well. ITV's "Love Island" and "Cleaning Up" will now be subject to binge-watching. And BBC will also have a couple of its old shows like "Gavin & Stacey" and "The Office". But wait, there's more! Just like any other huge movie streaming service, we can expect to see some original series that will be exclusive to it only.
What's the difference with Netflix and Britbox TV?
The biggest difference you will probably take notice of is that Britbox has a much wider range of movie titles available. Did you know that the UK Netflix library is only 1/3 of the full, American movie selection? But with this, you'll have a lot more options. And not to mention, you'll even have your favorite local shows at your disposal! As soon as I heard Love Island was going to be available, I was hooked.
Another difference you can take into consideration is the price. Netflix's monthly subscription comes to a total of £5.99 a month. Now, what if I told you that Britbox comes at the exact same price? That's right, this new service definitely saves you a lot more money compared to sticking with Netflix. Why you might ask? First of all, as I said earlier on, you have a lot more movie options with this one (not to mention, a lot of your local favorites). Secondly, Britbox TV allows for simultaneous use on multiple screens. Whereas with Netflix, you'd have to cough up an extra £3 a month.
This news actually came at the most perfect timing because it is now the age of new streaming services. Even Disney and NBC are preparing to rival and show up Netflix at their own game with their very own movie streaming service.
And we can probably expect a lot of good things in the future because, just after their announcement, ITV shares have increased by around 2%.
Try ExpressVPN Now
Save 49% + 3 Months FREE (Valid Until December 2023)
Get a Britbox VPN
As for every other movie fanatic, you should definitely pair this new streaming service with a Britbox VPN. And no, it's not just good for watching Britbox abroad. Something you probably didn't know about is all the benefits you could get by simply subscribing to a VPN service. Here are a few examples:
Safe and Anonymous Browsing
VPN stands for Virtual Private Network. From that name itself, it gives you your own secure tunnel through which all your internet traffic is heavily encrypted. In other words, nobody will be able to see any of your online activity. This way, you can keep your data safe from unwanted third-parties.
But even when you're casually using the internet, you make yourself vulnerable to so many different threats. Nowadays, it is so simple to track down someone with their own IP address. So, with a VPN, you can easily protect yourself from the online hackers lurking in every dark corner.
Say Goodbye to Geo-restrictions and Censorship Forever
You probably already knew that VPNs can bypass geo-restrictions in a breeze. After all, this is what they are most famous for. But now that you have a movie streaming service available in the UK, what could you possibly need a VPN for?
Sure, it's all well and great when you're using this service within the United Kingdom. But what happens when you go outside the country for vacations or business trips? You'll be blocked since your IP address shows that you are in another country. But, if you get a VPN, you can easily get around this problem and watch Britbox abroad.
A VPN has the ability to hide your real IP address and change it to make it look like you're somewhere else. You simply connect to a VPN server in the UK and voila! The website will now believe you've never left home and will grant you immediate access to Britbox abroad.
Another way that this feature comes in handy is when you visit countries with heavy censorship. Take China for example. They don't allow Facebook, Twitter, Instagram, or even Google. But with a VPN, you can select a server from another country and freely access all the sites you usually do!
The Best Britbox VPN
Here is what I promised earlier on. These are all the VPN that I personally ranked based on my years of experience with them.
For a long time, I have been testing out almost all the VPNs that are available on the market. Famous ones, cheap ones, free ones, you name it. I am very proud to finally be able to share my favorites and put them into good use. Don't worry, because I wouldn't recommend anything that I personally didn't like myself. In fact, I use the best VPN every day and it runs perfectly.
I recommend having a look at the individual reviews so that you can get a feel of which VPN provider suits you the best.
And We're Done Here
Now that you know all about Britbox TV, aren't you ecstatic at the thought of finally having a provider that can give us a lot more movie options? And keep in mind that you can easily watch Britbox abroad with a VPN. Not only does it keep, you safe, you can also unlock any restrictions that you happen to come across.
If you don't know where to begin, I recommend starting out with ExpressVPN. Feel free to test it out using their 30-day money-back guarantee!