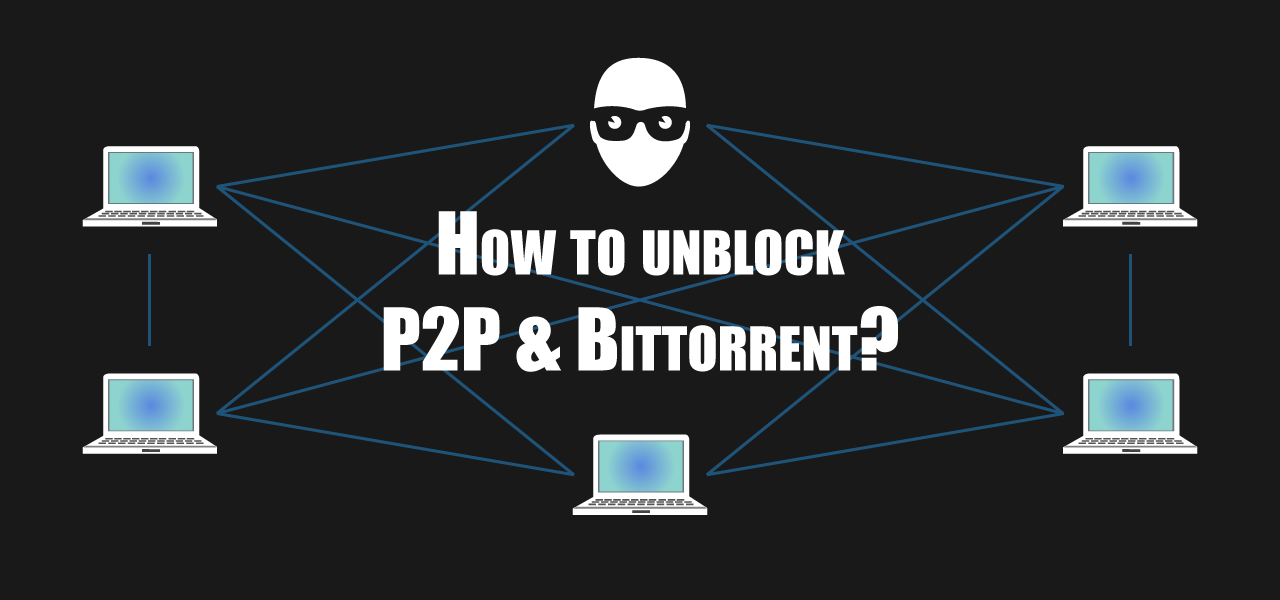 Have you ever heard about ISP throttling users traffic? No, then you missed something. Because you should know that Internet Service Providers around the globe shape the traffic of their customers. Basically, they setup filters to limit your Internet speed. Not for all your traffic of course. No they do a filtering à la carte. And their favorite victims are P2P and torrents. In this article, I'll explain how to bypass P2P block.
Quality Of Service: Manipulation of network traffic
First of all, there's one thing that has always amazed me: The ISPs' savage marketing to sell their Internet packages, both ADSL or fiber. Indeed, it's the arms race! Get 10 MBps here, 1 GBps there. Almost like in some razor ads: Always more blades…
Of course, as a customer, I'm always looking for the fastest speed. However, the advertised speed is never the one we really get. Did it ever happened to you? First you subscribe for a 20 MBps package. Then you install the router. Finally you start downloading a torrent (even a legal game patch, or a Linux distribution) and you get a blasting 10 KBps…
| ISPs | What they offer | What you get |
| --- | --- | --- |
| | | |
So, you can try to call the technician. But he'll just laugh at you. And explain that the problem comes from your computer. "Sorry I can't do anything. Did you try to restart your computer and your router?" While the truth is that most Internet Service Providers add P2P filtering on Internet connections.
Rather to talk about limitations, they call it Quality Of Service (QOS) to make it sounds better. But it's just a restriction on your speed, to shape their global traffic. And they implement it to guarantee that Trevor can watch his lol cats videos in HD on Youtube… While you're trying to bypass P2P block to get your bandwidth back!
Why does your ISP filter P2P and torrents?
As always, there's a logical (and financial) explanation. Indeed, your ISP's network is physical. Hence, it has a concrete reserve of resources and of bandwidth. And it is rare (like unicorn rare) that providers have an over-sized network. In fact, it's exactly the opposite… So the bandwidth, which is sold as "unlimited" is always limited to the physical network specifications.
P2P and torrents bandwidth
Due to the proliferation of broadband, more and more users are using Peer-to-Peer. And they share very large files: Software, multi-media files, and applications. So this trend has exponentially increased traffic flows on most ISPs networks. And they have to deal with it.
A limited bandwidth
Now, do you like maths? Because we'll do math to get to the point. If your ISP has 100 customers. And each of them subscribed to a 100 MBps package. Then, there are 2 options available:
Either your ISP will scale their network to be able to provide a 10 GBps speed (100 clients x 100 MBps); or
Or your ISP will decide that a 1 GBps speed should be sufficient, as they know

How much bandwidth their customers use at the peak of the day
How much each of their customers consume on average
Got it Einstein? Providers need to make profit too. And they will always try to reduce their costs to a minimum. Therefore they'll rather go for an adapted (under-sized) network. But most of the time you won't even realize that your speed is restricted. And you'll enjoy a fast Internet for an affordable price. It's not all bad.
Bandwidth usage
As a rule, the bandwidth usage varies with time. Indeed, during the day people are at work (or at school). And they use their business subscriptions (that are often more expensive). While in the evening, everyone goes back home. And that's when the s*** hits the fan. Because they surf the Internet, watch streaming videos, download large files etc. Therefore the usage of bandwidth reaches a maximum.
Most likely, that's when your ISP starts shaping the traffic. So that most customers can have a correct speed. Indeed, imagine if all clients downloaded a file at the same time, with the famous 100 MBps boasted in the ads, the network of the ISP would simply fail!
The strategies to filter P2P and torrents
Therefore, to avoid potential network failures, providers implement several strategies. And they normally control your traffic with their DNS, the default ones. So, it means that your ISP knows all your requests, what you look for on the internet. And once they know about your activity, they can:
Totally block P2P: All torrent blocked, when your ISP doesn't want you to use torrents at all.
Schedule a P2P filter: Torrent blocked, usually in the evening, to avoid downloads.
Limit the bandwidth for P2P and torrents: You can download but the bandwidth of P2P and torrents is penalized by XX% and it's slower than usual.
But to manage an Internet network is a mammoth task. Therefore, I can understand ISPs that limit and filter bandwidth "for the greater good" of their customers. However, it should be clearly indicated that they shape your traffic. That you won't get 100 MBps 24/7, only when available. Because most of the time, there's just a fine print about it. Lost in their terms and conditions, where nobody ever reads… Seems like they sacrifice the truth to get the most subscribers.
Test if your ISP is throttling your connection
So, some Internet Service Providers slow down certain types of traffic, as I said. And other ISPs even slow down their customers' connections if they reach a certain download limit in a month. But is your ISP throttling your traffic?
Here's a simple way to test whether your ISP is performing any traffic shaping on your connection: It's called the Glasnost project. Glasnost tests work by measuring and comparing the performance of different application flows between your host and [their] measurement servers. The tests can detect traffic shaping in both upstream and downstream directions separately. The tests can also detect whether application flows are shaped based on their port numbers or their packets' payload.
How to bypass P2P block?
Because that's what you really want here. And fortunately, you can get your bandwidth back! Indeed, in this subheading, I'll explain how to bypass torrent block and all your ISP's restrictions. In addition, it's not so complicated, just follow the guide.
Change your DNS servers
First, you need to stop using your ISP's DNS servers. Because otherwise your traffic is monitored… And you need to know that DNS always work in pairs: With a preferred DNS server and an alternate DNS server. Consequently, when changing the DNS of your device, always change 2 IP addresses. Furthermore, you can delete the DNS servers you're not using. Also, you can find a tutorial for Windows 10 here.
While using a new DNS server, your service is more secure. And you can avoid DNS leaks. Furthermore, you can even get a faster service. The public DNS servers below are reliable options. Bonus: They're free.
| Public DNS Provider | Preferred DNS server | Alternate DNS server | Website |
| --- | --- | --- | --- |
| Comodo DNS | 8.26.56.26 | 8.20.247.20 | Visit Now |
| Google DNS | 8.8.8.8 | 8.8.4.4 | Visit Now |
| OpenDNS | 208.67.222.222 | 208.67.220.220 | Visit Now |
| Neustar DNS | 156.154.70.1 | 156.154.71.1 | Visit Now |
However, changing DNS is obviously not enough to bypass torrent block. Because your provider can still analyze your traffic data, the ports you're using and the type of requests you have made on the internet. But it's a good start to remove the most basic P2P filters.
Encrypt your traffic with a VPN
Therefore you need another solution to bypass P2P block. And the filtering of your ISP is probably managed at the hardware level anyway, by a router provided in the package or by a traffic shaper. So, you can't delete the filters. But you can get around them.
So the solution you need is a VPN. Because using a VPN will encrypt your traffic data. And data encryption ensures that your ISP is not able to read your activity. Therefore, your ISP can't determine what you're doing on the Internet. And if he can't determine what is your traffic, there's no way to throttle it.
The best VPN to bypass P2P block
Almost all VPN service providers offer a reliable traffic encryption. So just pick one of the following list. Because they're all good. Therefore, you'll be able to bypass P2P block and download torrents.
This was my guide: How to bypass P2P block? A method to hide torrenting from ISP. Stay tuned for more articles coming soon.
Privacy is a right, protect it!
If you are genuinely interested in thwarting the tracking efforts of your ISP, your government and other advertisers, you should read the articles below: