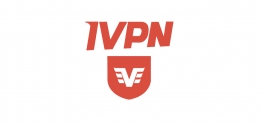 IVPN is famous to be one of the safest VPN on the market. Indeed, it was created by a group of information security professionals in 2009. Originally based in Malta, the company later moved to Gibraltar for privacy purposes. Despite being owned by an enemy of the internet, Gibraltar is surprisingly much friendlier to digital privacy. So let's review IVPN in details now.
IVPN, a passion for privacy
First of all, this VPN is developed by computer security experts – obviously… However, in this case, we're talking about real masters, passionate about their field. People who have always promoted digital security and privacy. Indeed, the company is a member of the Electronic Frontier Foundation, a foundation in favor of Internet freedom (notably via the Def Con and other hacker foundations). And some of their team are consultants for the Infosec Institute. In short, at IVPN, there know what they're talking about.
Therefore, IVPN will never collect or process your personal data, as it goes against their belief. And their mission is to provide the best data protection service in order to guarantee you're browsing anonymously. Of course, that doesn't mean they're promoting illegal activities either.
A concrete example? When you subscribe to IVPN, they only save your email address. And their servers are located in countries where there's no logging policy. Furthermore, if an organization asks IVPN to monitor your account, they will let you know, as per their policy. And they will delete your membership with IVPN in order to protect you. Check their privacy policy for further details.
IVPN: Plans and pricing

As you can see, IVPN is not the cheapest VPN. But quality has a price. And you will definitely get what you pay for. IVPN offers three packages: Monthly, quarterly and annually. The longer you subscribe, the better the deal, with up to 44% discount. Click the image above to get the latest promotions!
The prices are nevertheless competitive. Indeed, a year of subscription is about £80. It's the same price as ExpressVPN, which is also one of the best VPN on the market.
You can try their service for free during 3 days. And they also offer a 7 days money back guarantee. So you can cancel your subscription and get  full refund.
Summary sheet for IVPN
| | |
| --- | --- |
| Traffic data | Unlimited |
| Net type | Private |
| Encryption | 256 bit AES + 4096 bit RSA |
| Server Switches | Unlimited |
| Servers | 28 |
| IP addresses | n/a |
| Protocols | PPTP, OpenVPN, L2TP/IPSec |
| Supported Devices | PC (Windows, Mac, Linux), Android, iOS, selected routers |
| OpenVPN support | Support for SSL-based OpenVPN protocol 256-bit data encryption. |
| Support type | 24/7 live support, real people |
| Money back guarantee ? | 7 days |
| Countries | 12 |
| Multi-login | 3 |
The VPN IVPN in details
A simple interface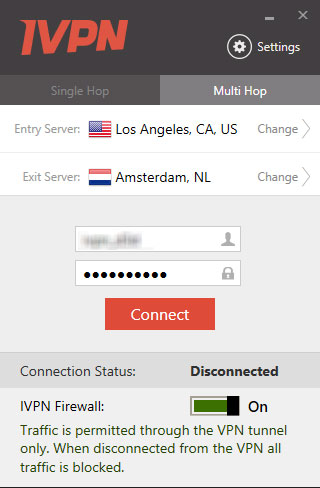 The interface of IVPN is simple and efficient. You can easily select whether to connect using single hop or multi hop. And you can access the settings and enable the firewall with a click.
Multihop Technology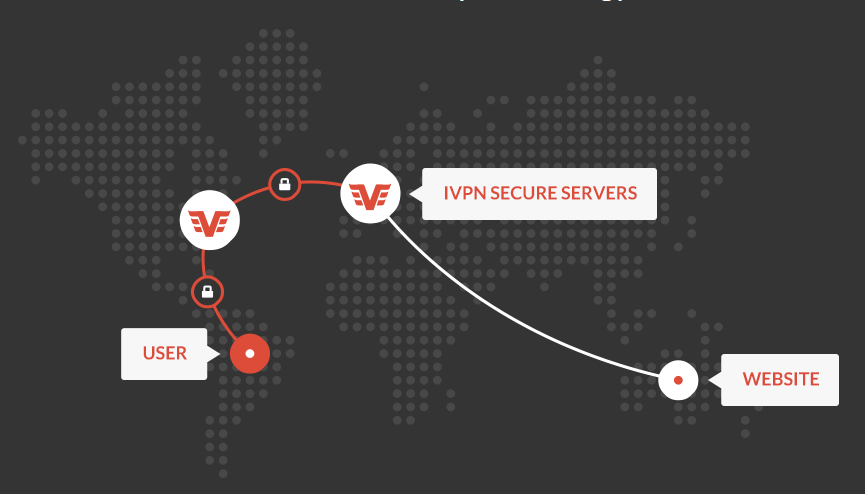 IVPN's multi-hop technology offers an additional privacy protection. Indeed, you can connect to 2 or more VPN servers, in different jurisdictions. Therefore, multi-hop connections offer significantly higher levels of anonymity and privacy. It's hard, if not impossible, to locate you. However, you'll get slower performance due to the additional hop… If you really need multi-hop, I'd recommend to focus on NordVPN or Perfect Privacy.
Select your entry server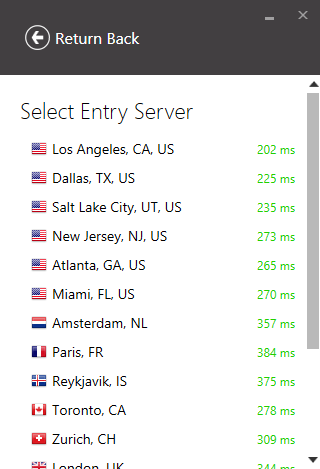 Select your exit server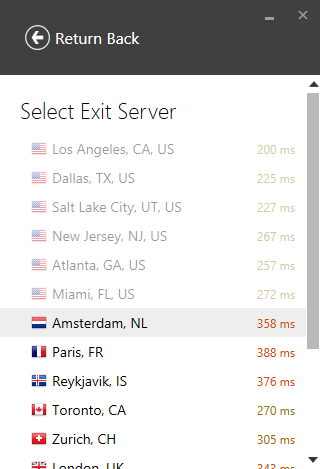 Video streaming
IVPN does not offer that many servers, it's one of its only weaknesses. But the performance is optimal and you can watch streaming videos without any problem.
However, you'll be limited to unblock content, as many countries are not covered. Therefore, you should check the servers list before subscribing to their service.
Paranoid Encryption
If ever you feel being watched, just turn on IVPN. Indeed, you'll get one of the strongest encryption available for a VPN. The data channel is encrypted using AES 256-bit keys, while the control channel is encrypted using 4096-bit RSA.
No logging policy
IVPN has a strict no log policy. Therefore, they won't log your activity (traffic and DNS requests) nor your connection (time stamps, bandwidth and IP address). You're anonymous even for IVPN.
Torrent friendly
Torrent and P2P are allowed, provided you stick to non-US servers. If ever IVPN receives a copyright infringement notice, they'll deal with it quietly. Indeed, they couldn't even answer it, as they don't store connection log. And they couldn't associate a request with a customer identity. Even if legally compelled to do so.
Port Forwarding
Port forwarding is available, but disabled by default. And it's only possible to receive incoming traffic data.
No native app for mobile devices
While IVPN will work on all devices, you will have to do the setup manually… Which is a little bit disappointing if you compare with its main competitors.
IVPN Review: Good
IVPN offers a strong VPN solution to protect your privacy. It is suitable for all the paranoids out there who need an easy-to-use VPN to surf anonymously, watch streaming TV and download torrents on all their devices without limits.
---
PROS
High speed connection
Multi-hop
Strong encryption
P2P and BitTorrent allowed, with no logs
User friendly
CONS
More expensive than other VPNs
Few covered countries
Limited number of servers
No native apps for mobile devices