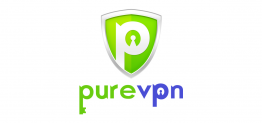 Pure VPN is provided by a company from Hong Kong. It's been on the market for almost 10 years now. And it's one of the most affordable and most popular solution available today. With its high speed, many users who are desperate because of their poor internet connection use it to increase their broadband, and not only to unlock content. Let's review PureVPN in details now.

Pure VPN, it's fast and it's cheap
And it's good! With Pure VPN, you get safe and anonymous connection. Furthermore, apart from their standard packs, there is an added function called DEDICATED STREAMING.
Dedicated streaming is an application for those who have a slow connection. This option allows you to enter in a dedicated browser, given by PureVPN, where you can enjoy high speed internet. If you subscribe, you can also enter into the Smart DNS, to unblock TV streaming abroad in a fast way. This is a very neat option, but it comes with a cost.
PureVPN: Plans and pricing

There are so many promotions available all year round that you'll never be paying the standard price! Just visit their website to get the latest discounts. PureVPN commercial policies are among the most aggressive in the market.
When I wrote this Pure VPN review, there were 3 plans available: a monthly plan, a biannual plan with a 10% discount and an annual plan with 50% discount. I told you PureVPN was one of the cheapest on the market!
Furthermore, they support over 50 payment systems. It's hard to make it easier for the customer.
Summary sheet for Pure VPN
| | |
| --- | --- |
| Traffic data | Unlimited |
| Net type | Private, cabled at 1 GB |
| Encryption | Military 256 bit |
| Server Switches | Unlimited |
| Server | 750+ |
| IP address | 80000+ |
| Protocols | PPTP, L2TP, SSTP, IKEv2, SSL-based OpenVPN protocol |
| Supported devices | Windows, Mac, Android, iOS, router (check here if your Router is suitable) |
| OpenVPN support | Support for SSL-based OpenVPN protocol with 256-bit data encryption |
| Support | 24/7/365 Live Chat, mail |
| Money back guarantee ? | 7 days |
| Nation covered | 141+ |
| Multi-login | 5 |
The VPN Pure VPN in details
A fast and safe VPN service
PureVPN has its own private network made of gigabit cables on more than 750 servers.
When you're connected with PureVPN, your ISP has no access to what you do. And it can't restrict your use of your connection (downloads, movies streaming…). All this is possible because you are protected by a VPN service.
Kill switch
This is a must for people who prioritize safety and privacy when they surf.
In practice, when an internet connection is interrupted, it's possible to identify your IP address. However, this feature ensures that in this case, all data toward the outside are blocked. At least until the VPN connection with PureVPN is back. That way, it avoids your IP from being traceable during the disconnection.
PureVPN smart purpose selection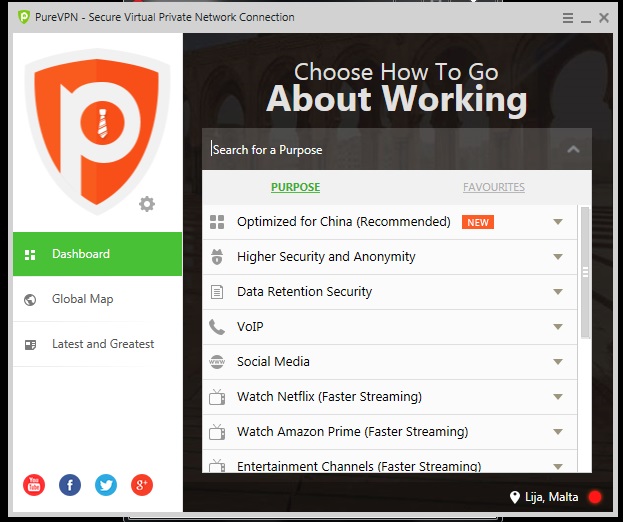 If you're not an expert user, then PureVPN is for you! There is a menu which exists only to specify what you will be using it for. Just pick what you want to do and PureVPN will set itself up for you.
For example, if you want to watch a football game in Sky Go, you have just to select TV WATCHING UK. This is a real smart menu!
Emulated Servers, through other countries
Ok, this might get a little bit complicated here. I'll try to keep it simple. Just imagine that some countries don't have any physical server. Yet, in Pure VPN, you can select these countries anyway. How is that possible? The servers are emulated.
For example, Italy (to watch Sky Go from abroad) has an Italian and a US server. If you're in the US and want to watch Sky Go, you'll connect to that server, having a low latency.
There are also US servers throughout Asia and Europe.
Automatic protocol selection
With the Auto setting (for automatic), the software automatically chooses which protocol is the fastest and safest for your activities. How is that possible? When you use PureVPN, it will analyze your traffic (downloads, streaming, web surfing) and adapt its protocol to your usage.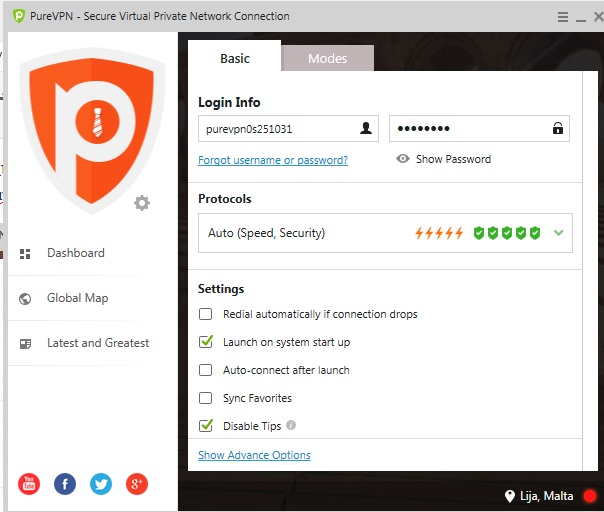 5 simultaneous logins
With PureVPN you can connect at the same time up to 5 devices. Connect your computer, your phone and your tablet or give your friend an access to share the VPN service. You can also share the cost!
Split tunneling
PureVPN offers the Split Tunneling function. It means that you can decide which activities will pass through the VPN from the same internet connection.
Torrent and logging policy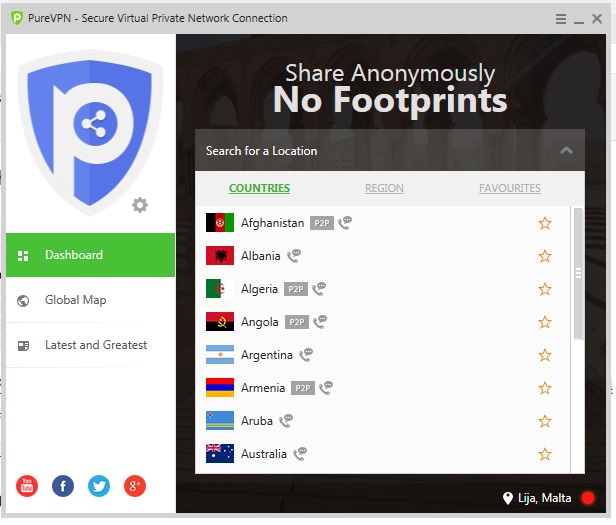 Since January 2015, Pure VPN configured some servers to be better performing with torrents. The servers are ordered by country. Look for the P2P icons or look for P2P in the "purpose selection" under the " file sharing" tab.
In addition, PureVPN has a NO LOGS policy. It only saves the kind of use, anonymously. And the broadband is unlimited.
Extra features
Here are the other features that Pure VPN offers. And these are now included in the package.
NAT Firewall: If you don't have a Firewall or an antivirus, the VPN can protect your devices
Stealth VPN browser: An external browser, always secure, which saves your surfing data
Dedicated IP: An option to keep the same IP address, everywhere you want
HDX Streaming: High speed connection to watch streaming movies via UK or USA servers (Hulu, BBC iPlayer, HBO GO, etc)
Pure VPN Review: Excellent
PureVPN is a serious contender for the best VPN title. It's suitable for all those who need an easy-to-use VPN to watch streaming TV and download torrents. And it's so cheap!
---
PROS
High speed connection
Affordable
5 simultaneous connections
P2P and BitTorrent allowed, with no logs
User friendly
CONS
Few countries covered in Africa